Trump just turned NYC car attack into a war on "political correctness"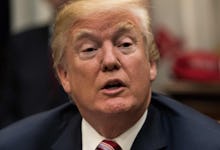 President Donald Trump on Wednesday slammed "political correctness" in the wake of the car attack in Manhattan that left eight dead and several others injured.
"We have to get much tougher, we have to get much smarter and we have to get much less politically correct," Trump said at a cabinet meeting. "We're so politically correct, we're afraid to do anything."
On Tuesday, Sayfullo Saipov, 29, of Tampa, Florida, drove a Home Depot truck off the road and onto a nearby bike path in what is being considered a terrorist attack — the deadliest in New York City since 9/11.
Trump late Tuesday tweeted that "being politically correct is fine, but not for this," saying he has instructed the Department of Homeland Security to heighten its vetting process.
He also hammered Senate Minority Leader Chuck Schumer on Wednesday over the "Diversity Visa Lottery Program," through which Saipov seems to have entered the country.
Describing Saipov as an "animal," Trump on Wednesday said that he would be working with Congress to terminate the program and institute a "merit-based program" in its place. He also called for an end to "chain migration."
Additionally, Trump said Wednesday that he wants tougher punishment for terrorists, though it's not clear exactly what he was proposing. Later in the meeting, he suggested to reporters that he would support "send[ing] him to Gitmo" — referring to Guantanomo Bay.
"We need quick justice and we need strong justice," Trump said. What we have right now is a joke and a laughingstock. No wonder so much of this stuff takes place."
Nov. 1, 2017, 1:09 p.m., Eastern: This article has been updated