NPR's head of news resigns amid sexual harassment complaints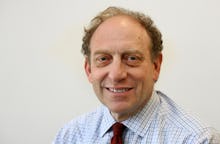 Michael Oreskes, NPR's senior vice president of news, has resigned from the public broadcaster following allegations that he sexually harassed at least three women over the course of several decades.
In a note sent to NPR staff Wednesday, NPR president and CEO Jarl Mohn told staff that Oreskes was leaving immediately and that the company would continue to look into the matter.
"This morning I asked Mike Oreskes for his resignation because of inappropriate behavior," Mohn wrote in the memo, which was obtained by Mic. "I have received his resignation, effective immediately."
Chris Turpin, NPR's vice president of news programming and operations, has taken over for Oreskes in an interim role.
NPR announced Tuesday that Oreskes would take an indefinite leave of absence due to the claims, which were first reported Tuesday by the Washington Post. Those claims included accounts of Oreskes allegedly kissing women without their consent after meeting them to ostensibly discuss job prospects.
The other incidents allegedly occurred when Oreskes was the Washington bureau chief of the New York Times. A spokesperson for the Times told Mic on Tuesday that the paper was looking into the matter.
"The Times takes all allegation of sexual harassment seriously and we are looking into it," the spokesperson said.
Late Tuesday, NPR media correspondent David Folkenflik reported that another woman, NPR reporter and producer Rebecca Hersher, was alleging misconduct. Hersher reported Oreskes to human resources office in October 2015 for inappropriate comments, and Oreskes was reprimanded, according to Folkenflik's report.
Oreskes joined NPR in 2015 from the Associated Press, where he had been senior managing editor.
In a statement to AP, Oreskes said he accepted "full responsibility" for his actions, which he called "inexcusable."