White House walks back Trump's tweets suggesting Chuck Schumer was to blame for NYC attack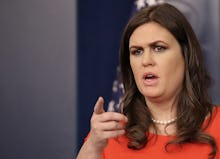 White House press secretary Sarah Huckabee Sanders walked back President Donald Trump's tweets that seemed to blame Senate Minority Leader Chuck Schumer (D-N.Y.) for the terrorist attack in New York City that killed eight people and wounded nearly a dozen others.
"The president has not blamed Senator Schumer and doesn't feel that the senator is responsible for the attack," Sanders said at the daily White House press briefing Wednesday afternoon. "We believe very strongly that the individual who carried out the attack is responsible, and no one else. However, we do think that there are policies that could be put in place that help protect American citizens, we've been talking about them for a long time, and we continue to push and advocate for those policies."
Earlier Wednesday morning, Trump seemed to pin the attack on Schumer, whom he said was responsible for immigration policies that allowed the attacker into the United States
"The terrorist came into our country through what is called the Diversity Visa Lottery program, a Chuck Schumer beauty," Trump tweeted earlier Wednesday. "I want merit based."
Trump also tweeted a comment from Fox & Friends that blamed Schumer for "helping to import Europe's problems."
While Sanders clarified that Trump didn't blame Schumer for the attack, she had a harder time defending Trump's decision to politicize the tragedy.
In the wake of the mass shooting in October in Las Vegas, both Trump and Sanders said it wasn't the time to talk policy, and said people should instead focus on the victims. However it took just a few hours for Trump to talk about immigration policy after the New York attack.
"He is delving into a policy and political discussion, and he and you were very clear after the Las Vegas shooting that it wasn't appropriate to talk about policy, so what's the difference now?" NBC's Kristen Welker asked Sanders.
"I said it wasn't appropriate to politicize the conversation, which I don't believe we are," Sanders said. "We're talking about protecting American lives and there are things that this president has consistently and repeatedly talked about, advocated for, pushed for, introduced executive orders for, supported legislation for, time and time again since long before he was even president of the United States that support this position."
However gun control advocates can make that very same argument. They have long pushed for stronger background checks and gun safety amendments, and just like Trump re-iterated those positions in the wake of the Las Vegas shooting.