6 Russians may face charges for DNC hack after Justice Department identifies them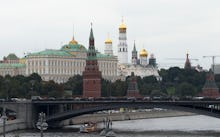 The Justice Department has evidence to charge at least six members of the Russian government who were involved in 2016's hacking of the Democratic National Committee, and could bring charges against them as early as next year, the Wall Street Journal reported Thursday morning.
The WSJ report did not name any of the six Russian officials. However the report incinerates President Donald Trump's claim that the DNC hack did not come from Russia but rather "somebody sitting on their bed that weighs 400 pounds."
Trump has called Russia's hacking of the DNC a "big Dem hoax," and denied that he or his campaign colluded with Russia.
However on Monday, the first charges in special counsel Robert Mueller's investigation into Trump's possible Russia ties were handed down, and included a guilty plea from a Trump campaign staffer who lied about his communications with Russians.
Trump still maintains that he did not collude with Russia, and the White House has tried to paint the news from Mueller's investigation as positive for the administration.