From Russia to tax reform to losing the popular vote, the buck stops with everyone but Trump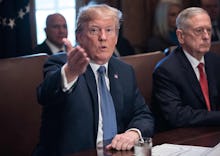 In 2013, when he was but a bombastic businessman with a reality show, Donald Trump offered the world some thoughts on leadership.
"Whatever happens, you're responsible," Trump tweeted. "If it doesn't happen, you're responsible."
As president, though, Trump has offered a strikingly different view of leadership — one in which he is never at fault, in which there's always somebody else to blame, in which the buck stops with everyone but him.
During a cabinet meeting Wednesday, Trump told reporters that he would not take responsibility for any failures on his upcoming tax reform push, which he has billed as "historic," and would instead point his finger at Treasury Secretary Steve Mnuchin and National Economic Council director Gary Cohn.
"If I have any problems, I will be blaming Mnuchin and Cohn," Trump said. "Believe me, they'll be hearing from me."
Then, later that day, Vanity Fair reported that the president has privately groused in recent days about his son-in-law and senior adviser, Jared Kushner, over what he sees as his role in the way special counsel Robert Mueller's Russia investigation has progressed.
"According to two sources, Trump has complained to advisers about his legal team for letting the Mueller probe progress this far," Vanity Fair reported. "Speaking to Steve Bannon on Tuesday, Trump blamed Jared Kushner for his role in decisions, specifically the firings of Mike Flynn and James Comey, that led to Mueller's appointment."
This is standard procedure for Trump, who is quick to claim credit when things go right — even if it wasn't really his doing — but unwilling to take any responsibility for things when they don't.
Here's a long, but nowhere-near-complete, list of things in the past year or so that Donald Trump has blamed on people who aren't Donald Trump:
Birtherism
For years, Trump was the face of the racist conspiracy theory that former President Barack Obama was not born in the United States.
But during the 2016 presidential race, when forced to reckon with his constant questioning of Obama's citizenship, he claimed that he had put an end to the birther conspiracy theory — but that his rival, Hillary Clinton, had actually started it.
"Hillary Clinton and her campaign of 2008 started the 'birther' controversy," Trump said in September 2016. "I finished it. I finished it. You know what I mean."
Losing the popular vote
Though he won the presidency, Trump lost the popular vote to Clinton — by kind of a lot.
He immediately began blaming massive voter fraud for the loss, claiming — without evidence — that millions voted illegally in the 2016 election.
Chaotic Yemen raid
A Navy SEAL and dozens of civilians were killed in a U.S. raid on an al-Qaeda target in Yemen on Jan. 29 — a move that was approved without "sufficient intelligence, ground support or adequate backup preparations," Reuters reported at the time.
But the death of William "Ryan" Owens wasn't Trump's fault, Trump told Fox News in February. No — that was the fault of his generals and the Obama administration.
"This was something that was, you know, just — they wanted to do," Trump said. " And they came to see me and they explained what they wanted to do, the generals, who are very respected ... and they lost Ryan."
The Trump administration suggested that it was actually Obama's fault — something Obama-era officials strongly disputed.
Future terrorist attacks
In February, after his first travel ban was blocked, Trump took to Twitter to suggest that the "so-called judge" who got in his way would be responsible for potential terror attacks in the future.
"Just cannot believe a judge would put our country in such peril," Trump wrote. "If something happens blame him and court system."
Health care
Trump has had several high profile failures in his effort to repeal and replace the Affordable Care Act — which he has long maintained is "imploding."
After a health care defeat in March, Trump called Senate Minority Leader Chuck Schumer and House Minority Leader Nancy Pelosi "losers," blaming the lack of Democratic support for the bill's collapse.
Trump's staff helped him skirt the blame, pinning the failure to Republican leadership and then-Health and Human Services Secretary Tom Price.
"This was all [House Speaker Paul Ryan] and Price," a senior administration official told CNN. "They agreed upon this plan the day [Trump] hired Price."
Trump and the GOP made another push in July, attempting to shove through the Senate a "skinny repeal" bill that they reportedly drafted over lunch a few hours before they voted on it, but it failed when three Republicans voted against it in a dramatic late-night session.
That wasn't the fault of a bad bill or scattershot process or an inability to sell members of his own party on it — it was the fault of Sens. Lisa Murkowski (R-Alaska), Susan Collins (R-Maine) and John McCain (R-Ariz.) for voting no.
It was McCain's fault, too, in September, when the Republicans' most recent go at repeal and replace, the Graham-Cassidy bill, was killed by lack of support. The Arizona Republican had dealt a stinging blow to the bill, announcing that he could not support it if it did not go through regular order on Capitol Hill.
McCain wasn't the only person standing between America and "GREAT" health care — Trump also at one point kept saying that Graham-Cassidy failed because of a nameless hospitalized senator. But no Senate Republicans seemed to be in the hospital, and, as Sen. John Thune (R-S.D.) made clear, the bill failed simply because it lacked support.
"If we had the votes, we'd be voting right now," Thune told CNN.
His empty threat about Comey "tapes"
In May, Trump tweeted a now-infamous threat to fired FBI director James Comey, warning that he "better hope that there are no 'tapes' of our conversations before he starts leaking to the press!"
When he finally admitted in June that he had not, in fact, taped conversations with Comey, he said that he only sent the tweet in the first place because of his predecessor, pointing to his unsubstantiated claim that "bad (or sick) guy" Obama had tapped his phones in Trump Tower during the election.
"You never know what's happening when you see that the Obama administration, and perhaps longer than that, was doing all of unmasking and surveillance and you read all about it," Trump said. "And I've been reading about it for the last couple of months about the seriousness of the — and horrible situation with surveillance all over the place. And you've been hearing the word unmasking, a word you probably never heard before. So you never know what's out there."
Vacant government posts
Trump has blamed Democrats for "taking forever to approve my people, including ambassadors."
"They are nothing but OBSTRUCTIONISTS!" he tweeted in July.
But he has failed to mention that the reason many of his government posts are vacant is because he has been "exceptionally slow in nominating people to serve in leadership positions below the secretary level," according to an analysis by the New York Times in July.
"It's always been slow, but Trump is running at a subglacial speed," Paul C. Light, a professor at New York University who specializes in political appointments, told the paper.
Bad poll numbers
From the early days of his presidency, Trump has maintained that "any negative polls are fake news."
It's not that his approval ratings are terrible — it's that the "fake-news" media is continuing to treat him unfairly.
Meanwhile, his approval rating has plunged to a new low in a recent NBC/Wall Street Journal poll, with a mere 38% of voters saying they approve of the president's job performance.
Crisis in Puerto Rico
Facing criticism for his administration's handling of Puerto Rico in the aftermath of Hurricane Maria, Trump has blamed everything from the fact that it is an island to the people of the devastated U.S. territory for the humanitarian crisis.
"They want everything done for them," Trump tweeted in September, blaming local leaders — particularly San Juan Mayor Carmen Yulín Cruz — for the poor response.
He has also blamed the media for what he sees as unfair coverage of the response, saying the press is using the crisis to "get Trump."
Nonhuman factors also presented a challenge to the administration, Trump has argued. Puerto Rico being an island is also partially to blame.
"This is an island, surrounded by water," Trump explained Sept. 29. "Big water. Ocean water."
"Any increase" in ACA premiums
Trump in October announced that his administration would no longer pay for ACA subsidies, kneecapping Obama's signature health care law.
Immediately, he framed the move in the passive voice, saying that the law is "imploding" because subsidy payments "[have] stopped," putting some linguistic distance between his decision and the law's perilous status.
Days later, he preempted any blame that might be cast his way for cost hikes related to his move on subsidies, tweeting that "any increase" in premiums is the "fault of the Democrats."
New York City truck attack
The truck attack that left eight dead and several others injured in Lower Manhattan on Tuesday was the fault of Chuck Schumer and "political correctness," Trump said.
In tweets Wednesday, Trump took aim at the Diversity Visa Lottery Program, through which suspected attacker Sayfullo Saipov entered the country, according to the Department of Homeland Security. Trump called the program a "Chuck Schumer beauty."
Later in the day, he took aim at another of his favorite targets: political correctness.
"We have to get much tougher, we have to get much smarter and we have to get much less politically correct," Trump said, describing Saipov as an "animal."
Tax reform
Trump has been talking up his plans for tax reform, which he said will be the "biggest TAX CUT in the history of our country."
But, he said Wednesday, he will be leaving Cohn and Mnuchin in charge of taxes while he embarks on his much-anticipated trip to Asia — so any hiccups it encounters should be blamed on them.
They will "do very well," he added.
The Russia investigation
Trump has blamed the investigation into his campaign's links with Russia on everyone from Attorney General Jeff Sessions, for recusing himself from the probe, to the Democrats and the media, for cooking up what he's described as a massive "hoax" to malign him.
The latest round in the president's Russia blame game comes after a pair of indictments, against former campaign chairman Paul Manafort and his associate Richard Gates, and a guilty plea from a former campaign adviser, George Papadopoulos.
Trump and the White House have maintained that the Manafort charges have "nothing to do" with Trump, and that Papadopoulos was nothing but a "young, low-level volunteer."
The recent deluge of Russia news, though, has reportedly rankled Trump, who Vanity Fair says "agreed" with ally Roger Stone when he told the president that Kushner was feeding him crummy advice.
"You can't go any lower," Sam Nunberg, a former Trump campaign aide, told the magazine. "He's fucked."