Lonely Lingerie debuts its first maternity lingerie collection for new and expecting moms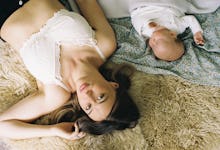 The New Zealand label Lonely Lingerie is one of those brands that has gotten things remarkably right. With unedited campaigns showing stretch marks and scars, and models with stories to tell, like women with breast cancer or even terminal illnesses, Lonely has been able to show an incredibly diverse set of women as their true selves.
So it isn't all that surprising that for its first maternity lingerie collection — which includes nursing bras and stretchy underwear — Lonely got things right yet again.
First off, the campaign that comes with the maternity launch has mothers of all different backgrounds posing with their children, telling all different stories of motherhood. There's a woman named Norah Wilson, for example, who had trouble breastfeeding and is now bottle feeding, and there's Sarah Larnach, an artist who told her story about starting a family with her wife.
The first maternity collection itself is incredibly thoughtful as well. Without sacrificing Lonely's signature light and feminine aesthetic, it was able to offer women lace nursing bras, with a more adjustable band and straps to fit their expanding or receding busts or frames, and underwear that was designed with a baby bump in mind.
"We felt like we could fill a gap in our customers' lives and wanted to make maternity lingerie that is beautiful and comfortable, without compromising fit and support," Helene Morris, the founder of Lonely, said in an email.
Indeed, between the images and the products, the collection seems to keep the women in focus, with the lingerie designs building around their own needs. Of course that's only sensible, but with so many nursing bras being very basic and plain, these bras manage to retain an element of being special and beautiful, while also tending to a mother's needs.
"It is a time of our lives when we often have to compromise our choices, and we hope that by allowing women the option of keeping their Lonely close to them, we can make their lives that tiny bit more special and personal," Morris said. "The essence of them can remain the same when so many other factors can be in turmoil."