Many celebrities tried, but who really won Halloween 2017?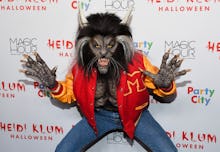 As the clock ticks down to Halloween, news outlets start to ask a question: Who won Halloween? Even before it was technically Oct. 31 this year, they had their ideas.
On Oct. 28, BuzzFeed presumptuously deemed Gwyenth Paltrow, with her Se7en costume, the winner of Halloween. Harper's Bazaar thought Amal Clooney, in a '70s getup, won Halloween. Latina thought Demi Lovato dressed up as Selena won Halloween. CNN went for Bruce Willis dressed as one of the twins from The Shining. Maxim favored LeBron James dressed as Pennywise. The Los Angeles Times declared that Heidi Klum, in her startlingly accurate Michael Jackson Thriller werewolf costume, was the winner of Halloween
Klum is usually the obvious winner. Every year for a whopping 18 years now, she has hosted a star-studded Halloween party, where people dress to be seen and photographed. But in these past few years, things have changed. Not only does Klum have more competition, with plenty of celebrities using social media to show every living, breathing person on the internet their ensemble, but we'd argue that Halloween is not a holiday that needs one sole "winner." It's not Christmas, where Mariah Carey is inevitably the queen. Instead, the holiday invites more than one celebrity to really rule. And in that case, we have many who we'd say "won" Halloween this year.
For starters:
Beyoncé
For the past few years now, Beyoncé has shown us that although she still has zero time to follow anyone on Instagram, she does have time for Halloween. In 2016 she was Black Barbie to Jay-Z's Black Ken, and in 2015 she was Queen Aoleon from Coming to America. Just extraordinary.
This year she was Lil' Kim in Missy Elliott's "The Rain (Supa Dupa Fly)" with Jay-Z as Biggie. Need we say more?
Kim Kardashian West
It is very obvious that Kim Kardashian West really, really tried this year. She did it for you, the fans. And although some outfits were more successful than others, you have to give it to the woman for showing up with four different costumes these past few days, all honoring legendary women in music.
First there was Cher, a good choice for Kardashian West who's been an open appreciator of Cher's greatness.
There was an ode to Aaliyah, which was questionable for some fans, but you know what? Whatever.
Then there was then Madonna, with West going with her sister Kourtney as Michael Jackson.
And finally there was Selena, with West donning almost exactly the same iconic Selena costume that Lovato wore days before.
Cardi B
But one costume that really stuck with us, because of its gusto alone, was Cardi B. She has had a year that musicians dream about. Within 12 months she has gone from being known as a former reality star and effervescent social media pro to being on the cover of Rolling Stone. "Bodak Yellow" only came out in June.
That's a glow up.
And her costume this year showed that, with her committing fully to Cruella de Vil, with a dalmatian and a great wig.
As is her Cardi way though, she wasn't just Cruella, but Bruella.
This year, these women obviously killed it with the commitment and the originality for these costumes too, not that we ever would have doubted them for a second.