5 things to know about how Russia may have used Facebook, Google and Twitter to hack our election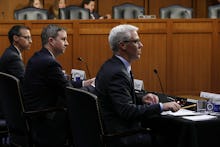 Welcome to Mic's daily read on Donald Trump's America. Want to receive this as a daily email in your inbox? Subscribe here.
Every day, we bring you a different dispatch on Trump's America. Today's focus: Tech companies.
Thursday's dispatch: 5 things to know about Silicon Valley leaders on Capitol Hill
Over the past two days, Facebook, Google and Twitter executives were grilled in public testimony before the Senate and House. Democrats and Republicans alike pushed the companies to offer more information about how Russia used their platforms to influence the 2016 presidential election.
Here's what you should know after those hearings:
Tech companies and lawmakers are not on the same page. Some lawmakers are coalescing around legislation that would force social media and web search ads to disclose who purchased them. Companies like Google have historically opposed that regulation.
And while the companies acknowledged they need to be more transparent, they've yet to come out in support of a bill that would require all political ads to say who paid for them.
Companies still struggle to control political advertising. The attorneys acknowledged they still cannot necessarily prevent similar ads from being purchased today. "I don't think you get it," Sen. Dianne Feinstein (D-Calif.) told the companies' lawyers on Wednesday. "What we're talking about is the beginning of cyberwarfare."
Around 150 million people saw Russian ads, between Facebook and Instagram. The House Intelligence Committee released a sampling of 3,000 Facebook examples of ads the Russians used to sow discord among Americans in the run-up to the election.
Lawmakers, especially Democrats, felt they had been ignored. "Our claims were blown off by the leadership of your companies," Sen. Mark Warner (D-Va.), who has co-led the investigation into Russian activities, said.
Not all questions were answered. Senators complained of vague answers to specific questions, suggesting there is still a great deal of information to gather around Russian actions. Sen. Kamala Harris (D-Calif.) was frustrated, for example, that the companies could not say how much money they made off Russian ads.
More on Russia and tech:
Axios details why the earnings for all three tech companies are riding high — despite the companies being scrutinized by Congress.
According to a list of Russian targets obtained by the Associated Press: "Hackers ... had ambitions well beyond Hillary Clinton's campaign, targeting the emails of Ukrainian officers, Russian opposition figures, U.S. defense contractors and thousands of others of interest to the Kremlin."
BuzzFeed reported Twitter once offered 15% of its U.S. election advertising space to RT, a state-backed Russian news service.
The Trump Organization was hacked in 2013 — potentially by Russians — and the breach was only just discovered by the company in the past week, Mother Jones reported.
Today's question: Have tech companies, like Facebook, done enough to prevent Russia from again using their platforms to sow discord?
Please send us your thoughts at trumpsamerica@mic.com.
Thursday in Trump's America:
Tax reform day! By noon, Republicans will have publicly released the details of their tax reform plan. A few things to watch:
- Does the plan cut the corporate tax rate to 20% as President Donald Trump wants?
- Is that tax cut permanent?
- Does the plan increase the deficit? (To pass the Senate, it has to be revenue-neutral.)
- What existing deductions are done away with? How will they affect middle-class taxpayers?
- How do House conservatives, like the Freedom Caucus, respond?
- How do key senators, like Sen. Susan Collins (R-Maine), respond?
From former White House ethics officials: "Trump's taxes must be released before tax reform."
From the department of "you've heard this before:" A Republican senator told me Tuesday that if the GOP doesn't pass tax reform, all Republicans are in trouble come 2018. In the minds of some Republican lawmakers, passing tax reform is more important than repealing and replacing the Affordable Care Act.
In that vein: A super PAC supporting Trump is planning to spend $100 million to sell Americans on the tax plan.
Trump vs. Schumer: After the New York terrorist attack, Trump is still blaming Senate Majority Leader Chuck Schumer (D-N.Y.) for supporting the visa program that allowed the attacker to enter the United States. That has led to an ugly spat between the two New Yorkers.
The White House walked back Trump's tweets that seemed to blame Schumer for the attack. Remember: Schumer, along with a bipartisan group of seven other Senators, proposed rolling back that visa program as part of an immigration reform package Republicans torpedoed.
And Trump tweeted that Tuesday's attacker "SHOULD GET DEATH PENALTY," a move that may make it difficult for prosecutors to pursue such punishment given the high-profile direction from the president.
Trump said the attack was the result of "political correctness." More on that here.
Rep. Nancy Pelosi (D-Calif.) doesn't want impeachment talk. She's opposing a $10 million ad buy by a Democratic megadonor to keep impeachment talk in the news and wants Democrats to focus on governing, Politico reported.
The head of news at NPR is out after complaints of sexual harassment. Now, a coalition of women is petitioning NPR's leaders for more information on why more was not done sooner.
The inaugural Women's March convention took place in Detroit, and Mic was on the ground and found women grappling with the fact Trump won a majority of white women — helping to propel him to the presidency.
Today's MicBite:
Eight people were killed after a terrorist drove a vehicle on a pedestrian walkway in Lower Manhattan on Tuesday. Five of those killed were from Argentina. Tap or click the video below to watch.
Corrections: Nov. 2, 2017