How lesser-known Trump aide Sam Clovis became a cooperative witness in the Russia probe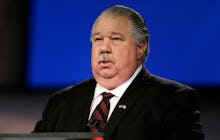 Two years ago, Sam Clovis was not a household name.
He was a personality in his home state of Iowa, where he pushed conspiracy theories as a conservative talk-radio host and worked as a professor at a small private college in Sioux City, Iowa. He was also a two-time failed candidate for both U.S. Senate and Iowa state treasurer.
But as of this week, Clovis has rocketed into the national spotlight, becoming a key figure in special counsel Robert Mueller's probe into the Trump campaign's possible Russia ties, with Politico reporting that he's now a "cooperative witness" in the high-stakes investigation.
The revelation lost Clovis a nomination to be the Department of Agriculture's chief scientist, as he withdrew from the nomination Thursday under pressure from the Russia investigation.
How Clovis got tangled up in the Russia investigation begins in 2015, when he left former Texas Governor and current Energy Secretary Rick Perry's doomed presidential campaign to join then-candidate Donald Trump as a national co-chairman and policy adviser.
Clovis was the one who brought George Papadopoulos onto the Trump campaign as a foreign policy adviser in March 2016, when Trump's foreign policy chops were being questioned.
According to Politico, while the Trump campaign has tried to portray Papadopoulos as a low-level figure, Papadopoulos worked with Clovis, who later became Trump's controversial pick for chief scientist of the USDA.
And he knew that Papadopoulos — who pleaded guilty this month to lying to the FBI about his communications with Russia during the campaign — was in communication with Russians, according to Politico.
According to NBC News, Mueller's team interviewed Clovis in their inquiry, and he has testified before a grand jury tied to the inquiry.
Clovis' ties to the Russia investigation lost him his appointment to the USDA.
Democrats had attacked the nomination both on the grounds that he was not a scientist, and that he has made offensive comments about race and sexual orientation.
Republicans had not expressed much concern over Clovis' nomination, until the Russia ties were revealed.
"From early on, I have strongly opposed the nomination of Sam Clovis to be the chief scientist at USDA," Sen. Debbie Stabenow (D-Mich.), ranking member on the Senate Agriculture Committee, said in a statement to CNN. "The emerging information about his role in the Trump campaign's interactions with Russia raises serious concerns. As we consider his nomination, I will be looking into these facts, along with his questionable qualifications and long history of divisive and outrageous statements."