Lais Ribeiro will be 4th black model to ever wear fantasy bra at the Victoria's Secret Fashion Show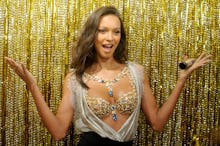 The 2017 Victoria's Secret Fashion Show is shaping up to be a turning point in more ways than one. Looking at its lineup, it appears it's going to be the most racially diverse on record, with more than 15 black models, many of whom regularly rock natural hair.
With the show set to air on Nov. 28, Victoria's Secret just let fans in on another important moment: Lais Ribeiro, who's modeled in the show before, will be rocking the show-stopping, always-diamond-studded fantasy bra, thereby becoming the fourth black model to ever do so at a Victoria's Secret fashion show.
On Wednesday, Rebeira let her fans in on the secret, writing on Instagram: "I've been holding this secret for too long and I am beyond honored to announce that I will be wearing the Champagne Nights Fantasy Bra this year! I am very happy and thankful for my Victoria's Secret family for trusting me and all the support from my on family, friends and fans!"
The bra itself is quite beautiful, with gold, diamonds and sapphires weaved together to give the illusion that the bra is made up of very sparkly branches and tiny leaves. It's reportedly worth about $2 million.
Just three black models have won this honor before Ribeiro, with Tyra Banks rocking the fantasy bra in 1997 and 2004, Selita Ebanks donning it in 2007 and Jasmine Tookes wearing the famed lingerie creation in 2016.
Although we're still waiting on a single plus-size or curve model to rock the Victoria's Secret runway, steps like this make it feel like something is changing within the company.