Candace Towns, transgender woman, fatally shot in Macon, Georgia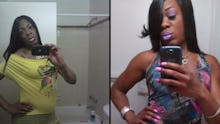 Candace Towns, 30, of Macon, Georgia, was first reported missing on Sunday. Two days later, on Tuesday, her body was found at the top of a hill on Macon's Rosecrest Avenue, the Telegraph, a local Macon paper, reported on Tuesday.
Towns had been fatally shot, making her at least the 23rd transgender person killed so far in 2017. Lonnie Miley, the Bibb County chief deputy coroner, told the Telegraph that he was sure Towns' death was a homicide.
In the days after her death, Towns' friends and family remembered her in posts on social media: "sleep on in a peaceful place," one post read, another said "I wasn't ready for you to go ... but I love you with every piece of me."
One of Towns' best friends, Malaysa Monroe, told theTelegraph that she had last spoken to Towns on Saturday night. "She gave me a call and me and her talked ... She wanted me to come link up with her, but I didn't ever come out. I wish I would have."
According to the Telegraph, Towns had been the victim of violence at least once before, when she was reportedly shot in the ankle in 2009. That shooting took place just blocks from where her body was found on Tuesday.
Monroe remembered Towns as a generous and giving friend. "If I needed anything she would give it to me. She would give me the clothes off her back."
In a press release on Wednesday that misgendered Towns, the Bibb County Sheriff's Department said the investigation into Towns' death was ongoing. The sheriff's department did not immediately respond to Mic's request for comment on Thursday.