You can thank Natasha Rothwell for keeping the laughs coming on 'Insecure'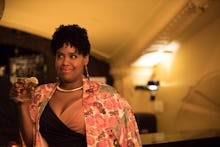 Some of the funniest moments on HBO's Insecure feature actress and writer Natasha Rothwell, who plays Kelli, the hilarious, frisky, unapologetic friend in Issa Dee's girl squad.
In the second season's penultimate episode, Kelli calls out Lawrence for wearing a jean-on-jean outfit to a dinner party: "Must have been a sale on denim," she quips as he walks in looking like an ad for Levi's. Earlier in the season, she has a matter-of-fact response to the pay gap between black and white workers. "That's why I make sure my white clients get less on their tax returns — it's reparations," she says. Of course, her face says it all in one of the most memorable scenes from this most recent season, when she lets her new boo feel her up under the table at a restaurant.
Rothwell has undoubtedly made her mark on the series, delighting audiences with her quick one-liners and tell-it-like-it-is persona. In a show with a ton of messy drama, Rothwell is able to cut right through that tension with humor and impeccable comedic timing.
"The thing that I love about playing her — and I think it may be why people like watching her — is that she speaks her mind," Rothwell, who has said she is nothing like her character, said in a recent phone interview. "She doesn't really consider an inner critic and is not one that doubts herself. That's empowering for me to play."
But Rothwell isn't just using her talents to bring Kelli to life. She also brings that energy to the writers room, where her contributions help to make sure Insecure continues to resonate with audiences. For the series' third season, which creator Issa Rae and team began writing at the end of October, Rothwell is set to serve as co-producer, after being promoted to executive story editor ahead of its second season.
"I get to work on a show that feels really timely considering what's going on in the world, and telling really important stories that don't get to be told," Rothwell said. "And I get to write them and get to act in them, and I'm now in a position to help produce. I have won the lottery, really."
Rothwell definitely has a point. Her recent rise to success shouldn't be understated: She is one of very few black writers in the television industry, as illustrated by a recent report on diversity in TV writers rooms. On Wednesday, racial justice group Color of Change released a report that said less than 5% of writers in Hollywood are black. Two-thirds of television shows on the 2016-2017 lineup examined had no black writers.
While Insecure's writers room is a gaggle of diverse talent, Rothwell landed her first big TV-writer gig at NBC's Saturday Night Live in 2014. The previous year, the series was embroiled in controversy regarding its lack of black women cast members. Rothwell was added to the variety series' writing staff after being considered as one of 11 candidates to join the cast. (Ultimately, that spot went to Sasheer Zamata, who's since left the show.) She is credited with writing on 21 episodes for the series from 2014 to 2015, according to IMDb. In 2016, she was one of eight comedians that landed their own episode on Netflix's The Characters, a sketch and improv comedy series, in which she sing-raps about being a "basic bitch."
Shortly after, she landed a recurring role on Insecure and a spot in its writers room. Rothwell said she knew she'd hit her stride in the second scene she taped for the show. On "Guilty as Fuck," the sixth episode of the series, she decided to switch up a line.
"You're telling me that once a dude touches a dick, he's gay?" she asks the show's other female leads in a conversation about men and sexual fluidity. "So it's like straight, straight, straight, straight, straight, straight... Lee Daniels?"
Rae, fellow co-star Yvonne Orji and the crew busted out laughing after that Lee Daniels line, she said. They cut cameras, got themselves together and ran the line over again since everyone broke character.
"At that moment, I felt like I had the green light to have some fun," she said. "It's moments like that that I live for. Now I'm on a mission: My goal is to make everyone break. That to me is a fun challenge."
She's also part of the creative genius behind the irreverent show-within-a-show, a soapy satire about a slave who is in love with her master, Due North. The concept started after a group of writers went out for lunch, but left two members of the team behind, Ben Dougan and Dayna Lynne North. The others dreamed up an elaborate story that the two were involved in an illicit love affair in the pre-war South and began teasing "Dou" and "North" — playing off the writers' last names — about it constantly. When it came time to write the second season, showrunner Prentice Penny tapped Rothwell and writer Ben Cory Jones to flesh it out.
"We wanted to see Scandal meets Underground," Rothwell said. And they had a lot of fun with it, ultimately writing 13 episodes — but only including 2 1/2 in the second season. (Psst, HBO, free idea: produce the remaining episodes instead of Confederate, just saying.)
"There's a lot of Due North on the writers room floor that's out there for those that are curious," she said. "I don't know if it will see the light of day, but it does exist."
Even though Insecure won't be back with new episodes until 2018, Rothwell's star will inedibly continue to rise. She landed a development deal with HBO in 2016 after the success of Insecure's first season and is currently working out the details.
"I just feel really incredibly lucky to be working at HBO," she said. "They've been really exceptional in recognizing what it is that I bring to the table and helping to cultivate and find a home for my talents there."
Lucky for HBO, Rothwell is ready to go — whether the cameras are rolling or not.
Insecure: The Complete Second Season is now available on iTunes, Amazon and GooglePlay.