Virginia is a big electoral test for the anti-Trump movement. Here's what they think they'll win.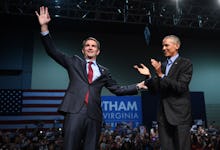 Virginia's state elections have long been seen as the first test of Democratic and progressive opposition to Donald Trump. In the state that voted for Hillary Clinton last fall, the governor's race has narrowed between Democrat Lt. Gov. Ralph Northam and former Republican National Committee Chairman Ed Gillespie.
But to the eight Democratic organizers that Mic spoke with for this report, the real test of energy on the left will come in state legislative races. At least nine Democratic and progressive groups have invested millions of dollars in winning several competitive races for Virginia's House of Delegates. Those range from establishment groups like the Democratic National Committee to groups that aren't even a year old, like Flippable, a digital grassroots organizing group focused on helping Democrats win state legislative seats.
Republicans control both chambers in Virginia's state legislature. In interviews with Mic ahead of Tuesday's elections, Democratic and progressive operatives did not expect Democrats to come close to winning the 17 seats necessary to take control of the Virginia House.
Flipping two or three seats Democratic would be a good night, organizers said. Since 1999, when Democrats lost control of the Virginia House, the most seats they have flipped in one election was six in 2003. Anything more than that on Tuesday would be "historic," organizers added.
Winning fewer than 10 seats out of 100 may not sound like a major change, especially given Republicans have a 17-seat edge in the House. But state Democrats that spoke with Mic uniformly cited gerrymandering and a historic lack of Democrats running in many districts as an obstacle to larger gains.
Virginia has one of the most gerrymandered state legislative maps in the country. And Democrats ran for just 65 of 100 open House seats in 2015. This year, they're running for 88.
"We are on one of the most uphill playing fields in the entire nation," said Kenton Ngo, director of analytics for the Progressive Change Campaign Committee. His group has funneled $115,000 from 35,000 donations to Virginia House candidates. "Gaining any number of seats would be good."
Democrats also said the results will be difficult to predict as polling has been erratic. There are few public polls of House races in the state, and polling in the governor's race have shown major fluctuations in the predicted vote share for each candidate.
Geoffrey Skelley, associate editor of election-prediction site Sabato's Crystal Ball at the University of Virginia Center for Politics, has been closely monitoring the election. He told Mic flipping two House seats would signal a good night for Democrats.
Still, the pressure will be on for Democrats to deliver converting historically low approval ratings of Trump and grassroots energy into electoral gains. The Democratic National Committee headquarters in Washington is emptying this weekend to knock on doors for Democrats in Virginia, a source at the DNC told Mic on condition of anonymity.
The DNC acknowledges that if Northam lost to Gillespie, particularly after the Republican has employed race-baiting ads to close the polling gap, it would be a disaster, the DNC source said. But the DNC and other groups also want to see at least a couple pickups in the House of Delegates to feel the night was a success.
"If this year ends up being a blue wave, we're hoping to flip five seats," said Catherine Vaughan, co-founder of Flippable. "Our worst case scenario is losing ground and not flipping seats."
New groups like Forward Majority, Future Now and Flippable have poured hundreds of thousands of dollars into specific Virginia legislative races. The Democratic Legislative Campaign Committee has also invested in several of those races.
The DLCC did not respond to a request for comment.
"I think picking up enough seats to take back the House is a tall order in Virginia, but I think we'll see Democrats make substantial gains, especially Democrats running as real progressives, who are putting forward a vision that gives working people something to believe in and vote for," said Joe Dinkin, communications director for the Working Families Party, which is working to elect eight progressive candidates to the House.
That sentiment was echoed by others who will measure the election on more than how many seats Democrats win.
Only 43% of Virginians voted the last time a governor was on the ballot in 2013. More than 72% voted in last year's presidential election. Organizers hope to drive turnout above 2013 levels to sweep some Republican incumbents from office.
Indivisible, a grassroots organizing group, has used Virginia as a testing ground for converting its groups into organizers across the state. Maria Urbina, the group's political director, said she has focused Virginia's 180 Indivisible groups on proving progressive, grassroots energy will drive up turnout and change election results.
"Absolutely, we all want to win next Tuesday," Urbina said. "[But] This movement is going to be tested throughout [the 2018] cycle. This cycle is one cycle. And we want to keep building this movement for the long run."
Organizers also say the candidates themselves demonstrate progress. Danica Roem, a Democrat running for the state legislature in northern Virginia, would be the first openly transgender politician elected in Virginia.
"A lot of our races aren't very competitive, to be honest, because of how the maps are drawn," Tram Nguyen, co-executive director of New Virginia Majority, said of the eight House races her group is involved in. "But even though they're not competitive, we think it's still important."
Nguyen's group has been organizing in Virginia elections for a decade. Focused on empowering minority voters, she said Tuesday's election is shaping up to be like no other she has seen.
"My metric of success this year is expanding the electorate and making sure people understand there are diverse communities, that we are paying attention and they can't take our votes for granted," Nguyen said.