House and Senate Democrats line up to shut down government over protections for DACA recipients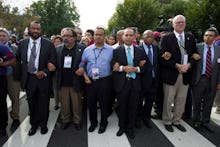 Following news Thursday that Republicans would not include a provision to protect Deferred Action for Childhood Arrivals recipients in a year-end deal to fund the government, key Democrats said they would not support a deal without those protections.
In both the House and Senate, Republicans need Democratic votes to keep the government open. That means if a bloc of Democrats oppose a funding bill that does not guarantee legal protection for people who immigrated to the U.S. as children, the government may shut down.
More than 90 Republicans opposed the September deal to keep the government open until December, far more than the 23 votes House leaders can afford to lose to pass legislation. The deal required Democratic support — something that is far less assured in December without protection for DACA recipients.
"It is reprehensible that Senate Republicans and the president would devise a scheme to hold the Dream Act hostage," said Michelle Lujan-Grisham, chairwoman of the Congressional Hispanic Caucus. "A clean bipartisan, bicameral Dream Act is the solution and should be taken up for a vote without delay."
"The CHC will work for as long as it takes to get this done before this Congress goes home for the holidays."
Reiterating a statement Sen. Kamala Harris (D-Calif.) made earlier this week, her press secretary said in an email: "[Harris] will not support an end of year spending bill that hasn't provided security to DACA recipients."
Trump said in September, when he struck a deal with Democrats to keep the government open, that he would support protections for DACA recipients without requiring funding for his border wall. That move by Sen. Chuck Schumer (D-N.Y.) and Rep. Nancy Pelosi (D-Calif.) drew the ire of progressive groups at the time, who said Democrats should have held firm to immediately demanding DACA protections.
"We know where Republicans stand on leaving immigrants' futures up to Donald Trump," said Angel Padilla, Indivisible's policy director, in a statement to Mic. "Now, every Democrat should follow Sen. Harris's example and make it clear they will insist on a clean Dream Act in any December spending bill."
Last month, the president reneged on his deal as progressives had feared. He outlined new immigration guidelines that demanded several concessions from Democrats that were non-starters in exchange for protection of DACA recipients.
Nearly two months ago, a few House Democrats threatened to shut down the government if there was no deal to protect DACA recipients in December. At the time, the head of the House Progressive Caucus said "the vast majority" of Democrats in that group supported the approach.
More frustrating for Democrats is the fact they have the votes to pass a pathway to citizenship for DACA recipients, but don't have the support of Republican House leaders to advance the bill.
Nearly 800,000 people received DACA when Trump ended the program — with six months notice — in September.
"Congress should stop kicking the can down the road and vote to protect Dreamers from deportation because the consequences are devastating," said Todd Schulte, president of Fwd.US, a leading immigrant rights group pushing for action on the Dream Act, in a statement to Mic. "No bill will be perfect, but inaction is unacceptable.
"Congress must act this year."
This story is developing and will be updated.