"No whole fish with the heads still on": Trump gets ready for important Asia tour as only Trump can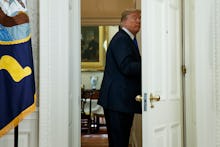 President Donald Trump on Friday will begin his 12-day diplomatic tour of Asia — an important international trip that will thrust the United States' ongoing nuclear brinkmanship with North Korea into the spotlight.
So how's his preparation going?
According to CNN, aides have busted out their "maps and charts and photos" to brief Trump on the trip — reportedly readying the president for his journey with one-page briefs in the interest of "brevity."
Additionally, they've attempted to secure Trump's creature comforts, banking some rest and golf time into his schedule and ensuring that he can eat his favorite foods — burnt steak and ice cream — instead of unfamiliar local fare.
"No whole fish with the heads still on," one official involved in organizing the trip told CNN. "Nothing too spicy."
His preparation for this upcoming Asia trip echoes his preparation for his first foreign trip as president back in May. That journey was characterized by bizarre handshakes and a great deal of head-scratching.
But the stakes might be even higher on the Asia trip for the travel-averse president with a dearth of foreign policy experience. The first one was a "relationship-building" trip to countries mostly friendly toward the U.S. Now, he is heading into meetings with countries like China whose relationship with the U.S. is more complex to talk about trade, national security and the situation on the Korean peninsula — all while the steady drumbeat of special counsel Robert Mueller's Russia probe grows louder and louder back home.
North Korea looms over Asia trip
Trump will begin his trip abroad, well, in the U.S.
According to his itinerary, he will go Friday to Hawaii for a briefing from the U.S. Pacific Command. Then, on Sunday, he'll embark on a tour that will take him to Japan, South Korea, China, Vietnam and the Philippines.
Notably, he will not visit the demilitarized zone between North and South Korea during his trip because "there is not enough time in the schedule," an official told reporters Tuesday.
Visiting the DMZ is "becoming a bit of a cliche," the official said.
Still, Pyongyang's nuclear provocations are likely to loom large over Trump's trip abroad.
He has been engaged in a game of nuclear chicken with dictator Kim Jong Un for months, repeatedly mocking the isolated leader as "Little Rocket Man" and saying before the United Nations General Assembly that he may "totally destroy" North Korea if it continues its nuclear threats.
But the country hasn't backed down, countering that Trump's heated rhetoric has made war between North Korea and the U.S. "inevitable."
According to H.R. McMaster, Trump's national security adviser, the president will press Asian leaders to step up their efforts to get Pyongyang to denuclearize.
"The president recognizes that we're running out of time and will ask all nations to do more," McMaster said during a White House press briefing Thursday.
Russia woes will follow close behind
The president's much-anticipated trip to Asia, though, will begin in the shadow of major developments in the Russia investigation.
Paul Manafort, the president's former campaign chairman, and his associate Richard Gates, were indicted on Monday on charges related to their work for a pro-Kremlin Ukrainian political party. Hours after their surrender, the special counsel's office revealed that George Papadopoulos — a former foreign policy adviser to the campaign — had plead guilty to lying to the FBI about contacts with Russian officials and had apparently been cooperating with Mueller's probe.
The moves have reportedly shaken the White House, with Trump growing frustrated with his aides over the investigation. According to Vanity Fair, his son-in-law and senior adviser Jared Kushner — who is joining Trump for part of the trip albeit in a "diminished" role — has been a target of the president's ire.
"Speaking to Steve Bannon on Tuesday, Trump blamed Jared Kushner for his role in decisions, specifically the firings of Mike Flynn and James Comey, that led to Mueller's appointment," a source told the magazine.
Aides have attempted to focus Trump on the trip, though, coaching him on defense and trade strategies in short sessions and on how to navigate cultural norms of the countries he's visiting, according to Politico.
But, as the publication noted, Trump remains a liability abroad — regardless of how much his aides try to prepare him.
"You never know what he'll say," advisers to the president told Politico. "The potential for error is huge."