From exposed beams to antler chandeliers: How the "hickster" trend made its way to hotels everywhere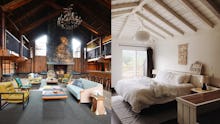 If you haven't yet heard the term "hickster," you're about to start seeing it everywhere. The word, an amalgam of "hick" and "hipster," suggests bringing an urban, urbane sensibility to a rural or small-town setting, and first popped up in 2014 after the Catskills-based Green Door Magazine devoted an issue — coincidentally, its last — to "The Summer of the Hickster." Although the quarterly lifestyle title never published again, the term did, nabbing headlines on Gothamist, ArtNews and Eater. The New York Times acknowledged the onset of this movement without labeling it (the "artistic overlap" of "color palettes and handmade, locally sourced furnishings") in a 2014 article cheekily entitled "Plan B: Open a Country House in Upstate New York."
The following year, as a spate of chic new hotels opened in the Catskills, the following appeared in T magazine: "Cynics might say that it was only a matter of time before the marketing of the Brooklyn hipster would give way to the marketing of the upstate 'hickster.'"
Cynics can say what they want, but the trend has hit the U.S. boutique hotel scene with full force. In New York state, an overarching design lexicon has been established by early entrants like The Graham & Co. in Phoenicia; The Hotel Dylan, which brought "Love is All You Need" pillows and modern plaids to the hippie town of Woodstock; and Rivertown Lodge, a former movie theater turned 27-room property in Hudson. In most cases, an existing property (often a motel) is renovated. The new look favors mid-century furniture over anything overtly modern or Baroque, toiletries by a local producer over, say, Hermes, and raw brass and nubby textiles over flashier, slicker forms of luxury. And a handful of new hotels out west have further cemented this high-design spin on hygge ("cozy," in Danish).
How has the trend spread so quickly? For one, these hotels are tailor-made to be Instagram backdrops. Danish skincare mogul Ole Henriksen chose the 1960s-inspired Timber Cove in Sonoma as the destination for an influencer trip, and the hotel was widely featured in the Instagram accounts of Aimee Song (4.7 million followers), Kirbie Johnson (24,100 followers) and Sona Gasparian (220,000 followers).
"We try to create cool designs that become content — we don't create content hoping it will be content," said Robert Novogratz of The Novogratz, the L.A.–based design firm behind Timber Cove (and the Hotel Dylan), in a phone interview. He described the reimagined interiors as "woodsy — like a high-end cabin, but we wanted to push it to the next level and really keep it clean."
Novogratz's sentiment was echoed by Jou-Yie Chou, a partner at the Brooklyn design firm Studio Tack. "When you're designing a space, you think about what's going to photograph well — which design moves," Chou said in an interview. "It's not the reason why you design a room, but at the end of a day, it's an asset to the designer to have the space be able to photograph well. That predates social media."
Many of Studio Tack's properties could conceivably get the "hickster" moniker, including '60s motel Scribner's Catskills Lodge, the Anvil Hotel — a newcomer to Jackson, Wyoming — and, most recently, Sound View Greenport, a renovated beachfront property on the North Fork of Long Island. "I understand everyone's obsession with labeling and naming things, because it just makes life easier to associate a name with how something looks — it's unavoidable," said William Brian Smith, another Studio Tack partner, in an interview. "People call our hotels 'hipster,' they call them 'mountain alpine modern.'" When I asked how he felt about the "hickster" descriptor, he paused for a moment. "That's awesome."
While it's easy for a design aesthetic to spread on social media, the intention and context are often lost. In 2016, Eagle Point Hotel Partners purchased Sound View, a 1950s motel on a quarter-mile of private beachfront on Long Island Sound. "We thought, 'We're going to pay homage to the past, we'll honor the legacy, we'll embrace what's there, and we'll enhance what was originally created," Eagle Point co-founder Erik Warner said in a phone interview.
Studio Tack was brought on for the renovation, and drew influences from midcentury architecture on Long Island and Horace Gifford (best known for his work on beachy Fire Island). The 55 guest rooms were outfitted with cedar shiplap wall cladding, high-performance flooring made from recycled rubber and cork, and Waterworks bathroom fixtures. Rounded edges — on a full-length mirror, on a custom headboard that double as a small desk — give off a porthole-like feel. "The question was: How do we create a beachside hotel without falling into the tropes of a beachside hotel?" Smith, who worked on the project, said. "If it were a boat, it'd be more like a ferry that people would go to work on and less like a yacht. That brings to mind a bunch of questions about using hardworking materials that have utility but are also very, very beautiful."
While the beauty comes through in a photo, it's hard to glean the backstory of hotel design unless you actually spend a night there. Thirty-nine hundred people "liked" Patrick Janelle's photo of an Anvil guest room, which was taken this June as part of a Woolrich influencer trip. But it's impossible to tell whether they caught the nuances or historical references that Studio Tack labored over. More likely they, like me, were drawn in by the overall pleasing effect of two-tone beadboard walls, muted plaid and sharply tailored bedding.
"If you appreciate design and catch the nuances of it, that's great," Chou said. "If you don't, and just think it's a beautiful space, that's perfectly acceptable to us, too. We don't begin to think that, nor should, all of our audiences who experience our spaces understand the specific roots of what they're inspired by. We just want them to feel good."