Sierra Club calls on Rick Perry to resign after he implies fossil fuels could reduce sexual assault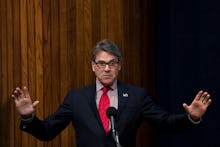 At least one organization is calling on Energy Secretary Rick Perry to resign after comments he made Thursday morning suggesting that developing the fossil fuel industry in "villages in Africa" could help reduce instances of sexual assault.
Speaking at an energy policy event hosted by Axios and NBC News in Washington, D.C., Thursday morning, Perry said that "a young girl" had told him about the safety benefits of electric lights, NBC News reported on Thursday.
"But also from the standpoint of sexual assault, when the lights are on, when you have light that shines, the righteousness, if you will, on those types of acts," Perry said. "So from the standpoint of how you really affect people's lives, fossil fuels is going to play a role in that. I happen to think it's going to play a positive role."
In response on Thursday, Michael Brune, executive director of the environmental non-profit the Sierra Club, released a statement criticizing Perry for linking fossil fuels with sexual assault and calling on him to resign his post.
"It was already clear that Rick Perry is unfit to lead the Department of Energy, but to suggest that fossil fuel development will decrease sexual assault is not only blatantly untrue, it is an inexcusable attempt to minimize a serious and pervasive issue," Brune said in the statement.
"Rick Perry's attempt to exploit this struggle to justify further dangerous fossil fuel development is unacceptable. He does not deserve to hold office another day with these twisted ideas, and he should resign from his position immediately before he causes any more damage."
At the same event on Thursday, Perry also told the moderators that he believed "the science is out" as to whether humans are the main cause of climate change, NBC News reported.