'DNAinfo,' 'Gothamist' owner abruptly shutters sites 6 days after staff unionizes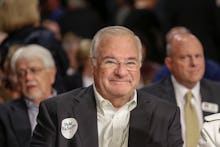 Joe Ricketts, the billionaire owner of the local news websites DNAinfo and Gothamist, has abruptly shut both news websites down six days after the staff voted overwhelmingly to unionize the newsroom.
The shutdown is effective immediately. On Thursday afternoon, the websites redirected to a letter to readers signed by Ricketts. The sites' archive of articles have been deleted.
"Today, I've made the difficult decision to discontinue publishing DNAinfo and Gothamist," Ricketts's statement read. "Reaching this decision wasn't easy, and it wasn't one I made lightly."
Ricketts said that the decision was a financial one.
"DNAinfo is, at the end of the day, a business, and businesses need to be economically successful if they are to endure," Ricketts wrote. "And while we made important progress toward building DNAinfo into a successful business, in the end, that progress hasn't been sufficient to support the tremendous effort and expense needed to produce the type of journalism on which the company was founded."
"I want to thank our readers for their support and loyalty through the years," he added. "And I want to thank our employees for their tireless effort and dedication."
The abrupt shutdown to DNAInfo, which covered New York City and Chicago neighborhood by neighborhood, and Gothamist, which also covered city-centric news, comes six days after staff for both sites unionized. Last week, staff won a vote sanctioned by the National Labor Relations Board to unionize the newsroom.
Ricketts had vehemently opposed the staff's unionization, and had run an aggressive anti-union campaign after refusing to voluntarily recognize the effort. He had all but threatened staff that he would retaliate against the formation of a union by shutting the websites down, saying he was "not interested" in a company with an "'us' versus 'them' dynamic" that he said a union would encourage.
"As long as it's my money that's paying for everything, I intend to be the one making the decisions about the direction of the business," he wrote in a memo to staff at the time. "… We're either going to make this business successful together or we won't. And, frankly, I'm not interested in a company with an 'us' versus 'them' dynamic."
Ricketts founded DNAInfo in 2009. He purchased Gothamist in March.