Rogue Twitter employee deletes Trump's twitter account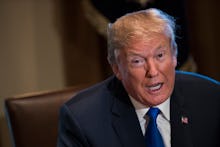 A Twitter employee went rogue on Thursday, deleting President Donald Trump's twitter account on their last day of work.
Trump's twitter account, @realDonaldTrump, along with its 41.7 million followers, was deleted from Twitter for 11 minutes Thursday night.
Those who tried to access Trump's account just before 7 p.m. Eastern were met by a "Sorry, that page doesn't exist!" message.
The disappearance of Trump's account led to a frenzy on Twitter, with users questioning whether his account had been suspended.
However Twitter said Trump's account was "inadvertently deactivated due to human error by a Twitter employee."
"Through our investigation we have learned that this was done by a Twitter customer support employee who did this on the employee's last day. We are conducting a full internal review," Twitter said in a statement.
Trump commented on the incident Friday morning, saying that the deletion of his account shows that his use of the platform is working.
"I guess the word must finally be getting out-and having an impact," Trump tweeted.
Trump's tweeting is one of his least popular habits.
More than half of voters, or 52%, said Twitter is not an "effective way" to express his views, while 72% said they think Trump's tweets send the wrong message to world leaders, according to a CNN poll from August.
Nov. 3, 2017 7:38 a.m.: This article has been updated.