"A DNC that lacks accountability and transparency:" 6 takeaways from Donna Brazile's DNC allegations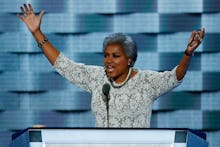 Welcome to Mic's daily read on Donald Trump's America. Want to receive this as a daily email in your inbox? Subscribe here.
Every day, we bring you a different dispatch on Trump's America. Today's focus: The DNC.
Friday's dispatch: 6 takeaways from Donna Brazile's take on the DNC
A split reopened Thursday that many Democrats had hoped was closed.
Ahead of her forthcoming book about the 2016 presidential election, Politico published an excerpt of the book by former Democratic National Committee interim chairwoman Donna Brazile, who said the Hillary Clinton campaign had taken control of the DNC more than a year before the election. Brazile alleged that maneuver rigged the party apparatus against Sanders. She also said the DNC was in so much debt and mismanaged that it forced the party to ally with Clinton.
Here are six important takeaways from Brazile's allegations against Clinton and the DNC, as well as the key responses on Thursday to the report.
1. Clinton and DNC officials signed a secret agreement. Struggling to raise cash in 2015, Brazile says the party cut a deal with Clinton's campaign. Clinton would funnel money to the DNC to keep it running. In exchange, the DNC would take orders on nearly all matters from Clinton's campaign.
2. The deal was signed in August 2015. Traditionally, a party presidential nominee takes control of the national committee after they've won the nomination through the primaries. This demonstrates Clinton had control over the DNC months before the first primary election and long before it was clear she would win the nomination.
3. A key progressive voice said the DNC was rigged. Sen. Elizabeth Warren (D-Mass.), when asked on Thursday if the DNC was rigged to favor Clinton, simply responded, "Yes."
4. Sanders surrogates echoed Warren's sentiment. Rep. Tulsi Gabbard (D-Hawaii) called the primary "rigged." She stepped down as a Democratic Party vice chair during the primaries over her frustration with the DNC. Nina Turner, head of the pro-Sanders political action group Our Revolution, argued with a former Clinton campaign strategist. She added that "this is really about a DNC that lacks accountability and transparency."
5. Brazile did not say primary results were changed. In the excerpt of her book, Brazile said she did not find any evidence that primary election results were altered.
6. Sanders remained quiet on Thursday. Brazile said Sanders took the news "stoically" when she called him in September 2016, a moment she said drove her to tears.
Now, the DNC's troubles continue. The party fired its top fundraiser on Thursday, but kept her on as a consultant, after another quarter of weak fundraising numbers. The DNC brought in $51 million from January to September. The Republican National Committee raised twice that in the same timespan. In October, top party officials with ties to Sanders were removed. They spoke critically to Mic of the party's direction and lack of transparency.
Today's question: Is the history of the split between Hillary Clinton and Bernie Sanders still important to you? Or do you want the Democratic party to move on?
Please send us your thoughts at trumpsamerica@mic.com.
Friday in Trump's America:
Offline: Twitter said Thursday that President Donald Trump's Twitter account was deactivated for 11 minutes by a departing Twitter support employee. "I guess the word must finally be getting out — and having an impact," Trump tweeted after the account was restored.
Mueller probe: Trump son-in-law and White House adviser Jared Kushner has turned over documents to special counsel Robert Mueller's investigators, CNN reported. Mueller is seeking more detail around Kushner's role in the firing of former FBI Director James Comey.
Sam Clovis has withdrawn as a nominee for chief scientist for the U.S. Department of Agriculture because he is now a "cooperative witness" in the Russia investigation. Clovis brought George Papadopoulos onto Trump's campaign and reportedly knew Papadopoulos was in communication with Russians.
What to know about tax reform: The proposed Republican tax reform plan, released Thursday, would slash the corporate tax rate. It eliminates popular deductions, like those on student loan debt, and lowers the deduction on mortgages from $1 million to $500,000. Right now, its chances look much higher than health care had of passing the House. The Senate will be much tougher.
According to the New York Times, winners under the plan include: business, multinational corporations, some middle-class families, the wealthy. Losers include: The sick, charities, real estate industry, university endowments.
Some middle-class families, particularly in urban areas, may actually see their taxes increase under this plan.
Does Trump take responsibility? Mic examines how the president regularly shifts blame onto anyone but himself.
Shut down? Key Democrats are threatening to not support a reported deal to keep the government open in December because it would not have protections for DACA recipients. Sen. Kamala Harris (D-Calif.) also said she would not support a bill that doesn't protect DACA recipients. Trump and Senate Republicans reportedly struck a deal Thursday to propose a government funding bill without DACA protections.
More Russia questions: Court documents show that Trump may have known people on his campaign were in touch with Russians. Despite saying unequivocally that he did not know of anyone advising his campaign who had Russian contacts, it now seems both Trump and Attorney General Jeff Sessions were briefed on potentially meeting with a Russian contact who promised information on Clinton. And Carter Page has said he told Sessions last year that he was heading to Russia in a personal capacity.
Democrats want Sessions to return to the Senate and answer more questions about his Russia knowledge.
Asia trip: Here's what to know about Trump's 12-day trip to five countries and two international summits. It will be his longest foreign trip yet.
Rick Perry: The energy secretary suggested use of fossil fuels could reduce sexual assault. The Sierra Club called on him to resign.
Jerome Powell: What to know about Trump's new pick to run the Federal Reserve, and what he may mean for your money.
Harassment in the House: Female lawmakers describe, but do not name, a sitting male member of Congress who has asked them for sex. One current and three former members of Congress described being sexually harassed during their time on Capitol Hill.
Tech woes: Axios details how Facebook, Google and Twitter are losing powerful allies in Capitol Hill Democrats
Today's MicBite:
President Donald Trump responds differently to terrorist attacks conducted by American-born vs. foreign-born attackers. Tap or click the video below to watch: