People are already having a blast with iPhone X's animated emojis that scan your face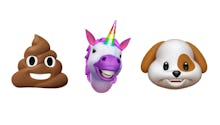 Humans are a bunch of beautiful, hilarious morons. Give them a piece of cutting-edge smartphone technology, and the very first thing they do is use its biometric face scanner to make a little pile of poop sing "Bohemian Rhapsody."
The iPhone X, in all its face-scanning, home-buttonless glory, is officially available in Apple Stores across the country. You might have a hard time finding one, but if you manage to snag one, the thing that's likely to make the rest of your friends extra jealous is its animoji feature.
Here's how it works: The iPhone X's face scanner reads your facial expressions and maps them onto an emoji, like a rabbit, dog, rooster, unicorn — and yes, even the pile of poop. You can send these animojis to your friends, making it look like they're receiving a message from a foul-mouthed panda, or whatever.
Even though the iPhone X has only been out for a few hours, people's early experimentations with these animojis are already flooding social media. For example, here's a side-by-side video of a rabbit and a rooster singing "Hooked on a Feeling," most recently repopularized in Guardians of the Galaxy.
Another person, Twitter user @jsmith189, made the unicorn emoji sing a song by RuPaul, which is about as perfect of a fit as it gets.
Animojis don't have to sing, of course. They can simply say whatever words come out of your mouth — which, uh, can yield some less-than-wholesome results.
Be warned: There's some NSFW, probe-related language in this next one.
Feel like you need a shower? Here you go: Animojis are also pretty cute when someone's kid gets a hold of it.
Of course, access to this fun, stupid feature won't come cheap. The iPhone X starts at $999.