A fake news writer reveals how he's making money on Facebook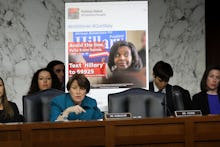 This week, lawyers from Facebook, Twitter and Google faced tough questions from members of Congress during a series of hearings on Capitol Hill pertaining to the platforms' role in Russia's attempt to influence the 2016 election. The conversation around how Russia created and disseminated fake news during the election took center stage.
But the issue of fake news is not limited to Russia. In an exclusive interview with Mic, an American social media strategist blew the whistle on how easy it is to make money by creating fake news on Facebook.
The source, who requested anonymity for fear of legal retaliation against his business, described in unprecedented detail a series of tactics he uses in order to create viral stories for financial gain. In one case, the source described a recent incident in which he created a story he said was intended to be satire, which involved a celebrity with hundreds of thousands of followers on Facebook. Mic was able to verify all of the details of the story.
The source attributed a fake quote in the headline of a story to the celebrity and distributed that story on Facebook. Eventually, the story was taken down after it was flagged by Snopes, a third-party fact-checking website that Facebook has enlisted to help flag fake news for removal.
However, the source said he still was able to make $20,000 before the story was taken down.
"The site had already made its money, we had already made our money. We could probably do that a dozen more times before Google and Facebook both would be like, 'We're now going to blacklist this website,'" the source said.
In a written statement to Mic, a Facebook spokesperson explained, "Our fact-checking partners diligently review items that are not apparent satire and are focused on the worst of the worst: hoaxes intended specifically to deceive."
However, the spokesperson also admitted that it commonly takes Facebook more than three days before it is able to remove fake news stories.
"While we know that most of the impressions typically happen in the first day, and that we have missed many, we are getting better," the spokesperson said.
In October, Facebook COO Sheryl Sandberg detailed a series of efforts the company is undertaking to prevent a foreign government from meddling on the platform in the future.
On Monday, Facebook revealed that an estimated 126 million Americans may have seen content linked to the Russian government that was intended to influence the election. In September, the company told lawmakers that the Russian company Internet Research Agency spent approximately $100,000 on 3,000 advertisements during the election.
On Capitol Hill, there is growing support for a bipartisan legislative proposal that would institute stricter regulations on political advertisements published on social media platforms.
However, the source said such legislation would likely not prevent him from creating fake news stories, similar to the example he described.
"The scenario that I told you about, there was no artificial advertising money that was done to sponsor that thing. It just went crazy. So, much of this can be done without even needing to get into the regulated advertising protocol that Facebook says they're increasing."
The source also said that any legislation that Congress is proposing targeting political ads would need to address the practice of boosting content in order to be effective.
On Facebook, boosting allows any business with a page to put money behind a post in order to reach more people. (Mic, like many publishers, occasionally boosts stories from its Facebook page to reach a wider audience.)
"A lot of times people think of political ads as, 'This message paid for by friends of Hillary Clinton.' That's not it at all," the source said. "[Russians are finding] these fake news stories that are resonating naturally and they're boosting it for $100 here, $200 there. And if they're boosting it to target audiences that's the exact audience they want, they're getting huge resonance just by having that little sponsored post."
The source had a cautionary message to the public, as well as members of Congress, who are trying to root out the issue of fake news ahead of the 2018 midterm elections.
"If [Facebook is] saying this is a contained problem that they can control, and they're honest about what they're saying, then they have no idea how the problem can be rearing its ugly head again in this next election cycle."
A Facebook spokesperson responded, saying the company is committed to addressing the problem.
"False news is an ongoing issue that we continue to fight, daily," the spokesperson said. "Our goal remains to remove all false news, regardless of its provenance."