Here's a timeline of when Kevin Spacey's alleged incidents of sexual misconduct occurred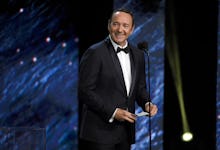 Ever since actor Anthony Rapp publicly alleged that Kevin Spacey made a sexual advance toward him when he was 14 years old, numerous men have come forward to level similar accusations against the actor.
The allegations span Spacey's 30-year career, from his start as a New York theater actor in the 1980s to his current work on the Netflix series House of Cards, which has suspended production in the wake of the allegations.
Spacey apologized in a statement after Rapp's allegation, denying having any memory of it taking place but saying if it did happen, the incident "would have been deeply inappropriate drunken behavior." The Oscar-winner was widely criticized for using his statement to also publicly come out as a gay man, seemingly in order to deflect from the allegation of making a sexual advance toward a minor. He is now reportedly seeking unspecified treatment, and was recently dropped by his agency and publicist.
Here's a timeline detailing each allegation.
1983
When he was 24, Spacey reportedly had a sexual relationship with a young, aspiring actor who was just 14 years old, according to the now-48-year-old artist's account, published by Vulture. The unnamed man told Vulture it ended when Spacey "tried to rape [him]." By then, he was 15 years old. Spacey's lawyer said the actor "absolutely denies the allegations."
1985
Spacey allegedly made unwanted sexual advances on a 17-year-old boy in 1985, that person told the BBC. The boy, now in his 40s and who was identified with the pseudonym "John," spent a weekend at Spacey's New York apartment after meeting the actor at a theater, the BBC reported. The man said that during his stay, Spacey behaved affectionately "in a way I certainly wasn't interested in," and the then-teenager woke up with Spacey's "head on his stomach and his arms wrapped around him." Spacey was in his underwear, the person told the BBC.
1986
Rapp told BuzzFeed his incident took place in 1986, when the Rent actor was 14 years old and Spacey was 26. According to Rapp's account, after a party at Spacey's New York apartment, Spacey picked Rapp up and put him on his bed, where Spacey climbed on top of Rapp, "pressing into [him]" until Rapp was able to "squirm" away.
2003
Director Tony Montana accused Spacey of groping him at a Los Angeles bar in 2003, when Montana was in his 30s.
"I went up to order a drink and Kevin came up to me and put his arm around me," Montana told Radar Online. "He was telling me to come with him, to leave the bar. He put his hand on my crotch forcefully and grabbed my whole package."
Montana said after he refused Spacey's advances, the actor followed him into the restroom, where he "backed [Spacey] out the door" and pushed him.
2004 to 2015
Spacey allegedly made a number of sexual advances on young men during his 11-year tenure as artistic director of the Old Vic theater in London.
Mexican actor Roberto Cavazos detailed his experiences with Spacey at the theater in a post on Facebook, writing in Spanish, "I myself had a couple of unpleasant encounters with Spacey that were on the edge of being considered assault."
"There are many of us who have a 'Kevin Spacey story,'" Cavazos continued, as quoted by People. "It seems like you only needed to be a man under 30 for him to feel free to touch us. It was so common that it turned into a (very bad) joke amongst us."
People who worked at the Old Vic during Spacey's tenure alleged to the Guardian that a pattern of inappropriate behavior from the former artistic director was well-known, and one said she was told not to discuss his behavior outside the theater.
"We were all involved in keeping it quiet. I witnessed him groping men many times in all sorts of different situations," one former employee told the Guardian, noting a specific incident in which the former employee said Spacey tried to take advantage of a friend after a party in 2011.
"He was taking advantage of the fact that he is this great icon," the former employee continued. "He touched men on the crotch — doing it really fast so they couldn't get out of the way."
In a statement, the Old Vic said it's "deeply dismayed" by the allegations against Spacey and pointed to a confidential email address for people to send their complaints.
2010
Spacey has been accused of flashing British bartender Daniel Beal in West Sussex, England, in 2010, when Beal was 19 years old. According to Beal's account, which was published in the Sun, Spacey invited Beal to smoke marijuana in his room, and Beal declined. Beal told the Sun that Spacey later sat beside him on a bench, exposed himself and said, "It's big, isn't it?"
After Beal refused his advances, the Sun reported Beal said Spacey gave Beal his Swiss watch, which retailed for 5,000 British pounds, to "keep me quiet."
"Looking back, he was trying to manipulate me from the moment he walked into the bar," Beal told the Sun. "In hindsight, that must have been grooming. He was just like his character in House of Cards — seedy and a bit weird."
2013
An unnamed U.K. journalist alleged that Spacey propositioned him in a restroom at the Edinburgh TV festival in Scotland in 2013, according to the Evening Standard.
"Word quickly got round about how he made an advance towards a young, straight writer but was told where to go in no uncertain terms," an unnamed source who said they were at the party where the incident reportedly occurred told the Sun.
2012 to present
Current and former House of Cards employees told CNN that Spacey made the show's set "a 'toxic' work environment through a pattern of sexual harassment," the outlet reported Friday.
Multiple staffers told CNN that Spacey showed "predatory" behavior toward young men on the show, particularly production staffers. One former production assistant detailed an incident in which he alleged Spacey reached his hand down the staffer's pants without consent, and that Spacey later "cornered" the staffer in the actor's trailer, making "inappropriate contact," CNN reported.
"I have no doubt that this type of predatory behavior was routine for him and that my experience was one of many and that Kevin had few if any qualms about exploiting his status and position," the former staffer told CNN. "It was a toxic environment for young men who had to interact with him at all in the crew, cast, background actors."
CNN reported another crew member, who worked on all of the seasons of the Netflix show, alleged that Spacey routinely "put his hands on me in weird ways."
In statements published by CNN, both Netflix and production company MRC acknowledged that a complaint about Spacey's behavior had been made in 2012, during production of the show's first season, but alleged they were not aware of any other incidents. MRC told CNN it has now enacted "an anonymous complaint hotline, crisis counselors and sexual harassment legal advisers for the crew."