Elizabeth Warren slams Trump: "Slurs, lies and trash talk won't stop the FBI from doing its job"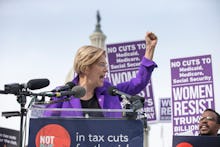 Sen. Elizabeth Warren (D-Mass.) fired back at President Donald Trump, after Trump invoked Warren's name to call for an investigation into Hillary Clinton.
"Pocahontas just stated that the Democrats, lead by the legendary Crooked Hillary Clinton, rigged the Primaries!" Trump tweeted Friday morning, using his derogatory nickname for Warren. "Lets go FBI & Justice Dept."
Trump was referencing Warren's comments on Thursday, in which she accused the Democratic National Committee of playing favorites in the 2016 Democratic presidential primary. Trump twisted her comment and used it as ammo to call for a Clinton prosecution.
That led Warren to go on a four-tweet tear against Trump, saying he distorted her words in an effort to distract from special counsel Robert Mueller's investigation into Trump's possible Russia ties — which has already led to two criminal indictments and one guilty plea.
"I understand your desperation to change the subject," Warren tweeted, directly at the president. "Your campaign [manager] was just indicted for conspiracy against the U.S."
Warren added that while Trump thinks his tweets are "cute," they "won't stop Mueller's investigation or keep your people out of jail."
Warren went on to say that while the DNC "shouldn't play favorites," the party's alleged favoritism toward Clinton is, "a whole lot different from illegally conspiring with Russia."
"The FBI knows the difference," Warren said.
Warren concluded her tweet storm by trashing Trump's comments, and saying American democracy won't fall to Trump's calls to prosecute his former political foe.
"Slurs, lies & trash talk won't stop the FBI from doing its job," Warren tweeted. "This isn't a dictatorship. It's our democracy. And it's stronger than you."