Trump administration suggests action against ACLU lawyers in teen immigrant abortion case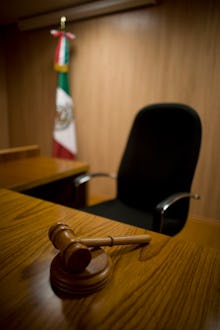 Over a week after an unaccompanied, undocumented minor being held in a Texas detention center obtained an abortion amid a protracted legal battle, the Trump administration is now asking the Supreme Court to vacate the lower court's decision.
Department of Justice lawyers are calling for the American Civil Liberties Union attorneys to be disciplined for having "misled" the DOJ about the nature of the girl's Oct. 25 appointment. In the filing, the DOJ claimed they were not advised that the appointment for the girl had changed from a counseling one to the abortion itself. The swiftness with which she followed through on her intent did not give them enough time to file for a stay in the case, the DOJ claims.
The move, according to ACLU legal director David Cole, is an attempt to erase the precedent set Oct. 24 by the U.S. Court of Appeals in Washington that determined that Jane Doe, as she is referred to in court documents, had a constitutional right to an abortion.
"They spent more than a month trying to block Jane Doe's abortion, they lost in the courts and they don't want that loss to stand out as a precedent to bar them from blocking other women from getting abortions," Cole told Mic over the phone.
Currently, the ACLU is working to certify a class of women in similar positions to Jane Doe for a class action lawsuit against the Trump administration. The ACLU says the Trump camp is violating the First Amendment rights of these women by imposing religious beliefs on them.
"They're deflecting the blame from the anti-choice community," Cole said. "At the end of the day it's an attempt to shift the blame after failing to pursue the remedies that were fully available to them and they chose not to seek."
The DOJ has not respond to repeated requests for comment from Mic on the Jane Doe case.
This latest filing follows in a series of unprecedented steps on behalf of the Office of Refugee Resettlement to stop Jane Doe from obtaining abortion care. After Jane Doe obtained the judicial waiver required of minors in Texas to get the procedure without parental consent, staff at the shelter where she is being detained in Brownsville, Texas, refused to transport her to a clinic. Instead, she was taken to a crisis pregnancy center where she was counseled to carry her pregnancy to term, according to ACLU attorneys.
An appeals judge ordered on Oct. 18 that staff stop blocking the abortion, only to have the Trump administration appeal the ruling later that evening. A three-judge panel then said on Oct. 20 that Jane Doe could get her abortion, but only once she found a sponsor. Following an appeal of that decision by the ACLU, the full court ruled Oct. 24 that Jane Doe be allowed to terminate her pregnancy immediately.
But that ruling applied only to her, and not other unaccompanied minors who the ACLU claims are, in some cases, personally being pressured to carry their pregnancies to term by Scott Lloyd, the ORR director. Lloyd is a long-time pro-life activist.
In a congressional hearing on Oct. 26 Jane Doe's abortion, Lloyd said that he did not have medical or counseling training, but that decisions regarding unaccompanied minors' access to abortion, contraceptives and other types of reproductive health would be reviewed by him on a "case by case determination."
In response to that, Rep. Pramila Jayapal (D-Wash.), accused him of overstepping.
"That's extremely troubling to me, Mr. Lloyd, what's happening," Jayapal said. "I think you're far overreaching your expertise or your jurisdiction."