There's a petition to keep Casey Affleck from presenting at the next Oscars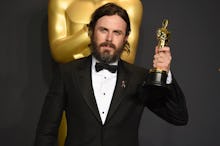 As Hollywood grapples with a series of high-profile exposés detailing sexual abuse, harassment and assault in the entertainment industry, a new petition is calling for the Academy of Motion Picture Arts and Sciences to disinvite actor Casey Affleck from presenting at next year's Oscars ceremony.
Affleck, who won the 2017 best actor Oscar for his role in Manchester by the Sea, is due, as is Oscars tradition, to present the best actress award to next year's winner. A Change.org petition started in October is calling on the Academy not to allow Affleck to participate in the ceremony because of past allegations of sexual harassment.
In 2010, Affleck settled lawsuits brought by two women with whom he worked on the mockumentary I'm Still Here. Cinematographer Magdalena Górka and producer Amanda White had both alleged that Affleck harassed them on set — among their complaints, White said that Affleck once ordered a crew member to show her his penis, called women "cows" and once grabbed her threateningly when she refused to share a hotel room with him, the Daily Beast reported in 2016.
Górka alleged that Affleck had also made sexual comments to her, suggested that she have sex with a crew member and once lay down next to her in bed while some of the cast and crew were staying overnight at an apartment together. Górka alleged in her complaint that she woke up in the middle of the night to find Affleck "curled up next to her in the bed" wearing only underwear and a T-shirt.
Affleck has denied the allegations against him, telling Variety in 2016, "People say whatever they want. ... I guess people think if you're well-known, it's perfectly fine to say anything you want. I don't know why that is. But it shouldn't be, because everybody has families and lives."
As of Friday afternoon, the petition, directed to Academy president John Bailey, had more than 17,000 signatures. The petition was started by Cameron Bossert, a Brooklyn-based director, producer and film composer who is not a member of the Academy.
Bossert's petition asks that, in light of the Academy's vote to strip Harvey Weinstein of his membership after reports about his pattern of sexual assault and abuse, the Academy should also take action against "another accused sexual harasser," Casey Affleck, and "rescind the privilege" of presenting at next year's Oscars.
In an email interview on Friday, Bossert said he was inspired to take action after seeing how widespread stories of sexual harassment and abuse were among women he knew, many of whom shared their #MeToo experiences.
"We as men were being called upon for our support, to say, 'I hear you, I believe you,'" Bossert wrote. "It was apparent that for a long, long time women have felt disbelieved, dismissed, alone. I didn't want to post 'I believe you' and call it a day. I wanted to take some kind of action, even if just symbolic."
Bossert said he was surprised at the support his petition has garnered — but he said he was "also surprised" that there wasn't already a movement to keep Affleck from presenting at the Oscars.
"Even broaching the subject with most women in the industry about this kind of behavior, they describe a world where it's simply the air they breathe, an exhausting alternate reality to mind," Bossert said, adding that allowing Affleck to present at the 2018 Oscars would "symbolically" dismiss the importance of the allegations made by Górka and White.
"If the Academy wants to say, 'I hear you,' to women in the industry, this is an opportunity to do so."