Bernie Sanders: I won't vote to keep government open without DACA fix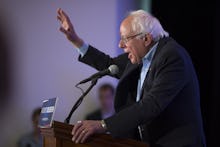 Sen. Bernie Sanders (I-Vt.) said on Friday that he would not vote to keep the federal government open past Dec. 15 without protections for recipients of Deferred Action for Childhood Arrivals.
In a tweet on Friday, Sanders became the third senator to say he would reject a spending bill without DACA protections. Republicans will need 60 votes in the Senate to pass legislation to keep the government open.
Sanders' statement comes after Sen. Kamala Harris (D-Calif.) was the first senator last week to say she would demand DACA protections in a year-end spending bill. Sen. Elizabeth Warren (D-Mass.) joined that call on Thursday.
Members of the Congressional Progressive Caucus said Thursday they would reject a reported deal between President Donald Trump and Senate Republicans to propose a government funding bill without protections for DACA recipients.
The flashpoint is a result of Trump's decision to end the DACA program, with six months' notice, in September. The DACA program gave about 800,000 people legal protections to work, study and live in the U.S.
Shortly thereafter, Democratic leaders struck a deal with Trump to keep the government running until Dec. 15 — when the issue of DACA could be revisited. Trump has apparently gone back on that deal, moving forward with a government funding deal that would not touch immigration.
Sen. Chuck Schumer (D-N.Y.) said on Twitter Thursday that he would push to pass the Dream Act by "the end of the year."
The House Progressive Caucus, of which Sanders is an honorary co-chair, did not immediately respond to a request for comment.