Snapchat just released a bird with arms character — and these Redditors are thrilled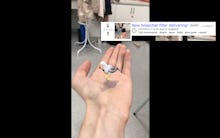 No matter how seemingly specific a topic may be, there's almost certainly a Reddit page dedicated to exactly that. Cats standing up? Yep. Power-washing porn? You bet. There's even one dedicated to images of birds with arms. It's called /r/BirdsWithArms.
And on Friday, Snapchat unknowingly gave /r/BirdsWithArms's 143,000+ subscribers the gift of a lifetime in the form of a goofy new augmented-reality filter. Can you guess what it is?
Yep. It's a bird. With arms.
There are several posts on /r/BirdsWithArms celebrating this exciting, very on-brand news, but one video — posted by Gustaf Eriksson, a student who lives in Sweden — is far and away the most popular, with more than 14,700 upvotes as of press time. In a private Reddit message sent Friday, Eriksson said he had followed /r/BirdsWithArms for about a year or two and knew Snapchat's new filter would be a hit with them in particular.
"I sent it to two of my classmates [who] were nearby when I found the filter," Eriksson said. "We had a few laughs about it and made it dance on each other's heads. Shortly after I got to think about how perfect this Snapchat filter was for /r/BirdsWithArms."
It's not clear exactly why this filter exists. One redditor suggested it was a reference to this video of a dancing seagull, but maybe there's just a secret fan of /r/BirdsWithArms among Snapchat's ranks who wanted to create an ode to his people. Mic has reached out to Snapchat for comment and will update this post with any response.
But whatever the reason for its existence, Eriksson was right about it being a good fit for /r/BirdsWithArms — though, admittedly, its subscribers are having a hard time staying on topic. For example, there are a number of people asking if Eriksson has a tiny Tic-tac-toe board drawn on his hand (yes, and it was a tie) and whether there's something wrong with his wrist bones (no, he's just skinny.)
Eriksson isn't sure what it is about seeing a bird with arms that's so entertaining, but he mused it's maybe because "they seem to express some human-like emotions depending on what their arms look like," he said. "Generally, I just find them hilarious."
Something about it resonates with a whole bunch of people, though, including Reddit cofounder, Alexis Ohanian, who called /r/BirdsWithArms his favorite subreddit in an interview with the Los Angeles Times.
Eriksson also posted the video to /r/TippyTaps, but it hasn't gained quite the same amount of traction. Not yet, anyway.
You go, lil' dude. You mean so much to so many.