White House approves report that says humans are the cause of global warming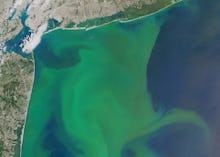 The White House on Friday approved a scientific report that says humans are to blame for Earth's warming, a conclusion that many in the Trump administration do not believe to be true.
"This assessment concludes, based on extensive evidence, that it is extremely likely that human activities, especially emissions of greenhouse gases, are the dominant cause of the observed warming since the mid-20th century," the study's executive summary reads. "For the warming over the last century, there is no convincing alternative explanation supported by the extent of the observational evidence."
The congressionally mandated study, which was conducted by hundreds of climate experts and scientists, says human activity has contributed to the rise in powerful Atlantic hurricanes like Hurricanes Harvey, Irma and Maria that ravaged Texas, Florida and Puerto Rico, respectively.
President Donald Trump, for his part, dismissed that theory in the wake of the major storms this year.
"We've had bigger storms than this," Trump said in September aboard Air Force One during a trip to survey the damage Irma wrought in Florida.
The report also found that human activity has led to "Arctic surface temperature warming, sea ice loss, glacier mass loss and Northern Hemisphere snow extent decline" in Alaska and other northern regions.
And that human activity will lead to more severe droughts and wildfires in the future, such as the wildfires that destroyed large swaths of northern California since last month.
The Trump administration has canceled many of former President Barack Obama's efforts to try and thwart climate change, including the United States' involvement in the historic Paris climate agreement.