George W. Bush on Trump: "This guy doesn't know what it means to be president"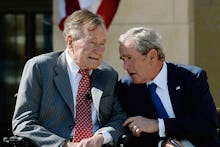 "I don't like him."
That's what former President George H.W. Bush has to say about President Donald Trump in the Last Republicans, a new book by historian Mark K. Updegrove.
The book — quotes from which were published by the New York Times and CNN on Friday — finds the 41st president and his son, 43rd President George W. Bush, slamming Trump over his disposition, lack of leadership and for "exploiting" peoples' anger.
"I don't know much about him, but I know he's a blowhard," the elder Bush told Updegrove in a May 2016 interview. "And I'm not too excited about him being a leader."
Neither Bush voted for Trump in 2016, the book confirms. As was reported before the election, the elder Bush voted for Democrat Hillary Clinton, according to the new book. Dubya left the top of the ballot blank, he told Updegrove.
"Wow, this guy doesn't know what it means to be president,'" the younger Bush told Updegrove of Trump's March 2016 claim that "my primary consultant is myself."
The comments were made public as George H.W. Bush faces groping accusations from several women.
Through his spokesman, the 93-year-old former president confirmed "patting women's rears," but said that it was meant to be "good-natured."
"Some have seen it as innocent; others clearly view it as inappropriate," spokesman Jim McGrath said in a statement. "To anyone he has offended, President Bush apologizes most sincerely."
Publication of the remarks also comes on the heels of George W. Bush's high-profile criticism of Trump during an October conference in New York, during which he lamented the "casual cruelty" of political rhetoric in America right now.
"We've seen nationalism distorted into nativism, forgotten the dynamism that immigration has always brought to America," Bush said, not mentioning Trump by name. "We see a fading confidence in the value of free markets and international trade, forgetting that conflict, instability and poverty follow in the wake of protectionism. We've seen the return of isolationist sentiments, forgetting that American security is directly threatened by the chaos and despair of distant places."
That implicit jab at Trump was followed days later by more explicit rebukes of the president by Sens. Bob Corker (R-Tenn.) and Jeff Flake (R-Ariz.).
The younger Bush — who reportedly said "that was some weird shit" after Trump was inaugurated — wags his finger at Trump's rhetoric and personal attacks in the book, telling Updegrove that "you can either exploit the anger, incite it, or you can come up with ideas to deal with it."
The book also repeats the 43rd president's July 2016 statement in which he said he is "worried [he] will be the last Republican president."