This week in Trump-Russia news: Mueller comes for Manafort as hints of fire appear behind the smoke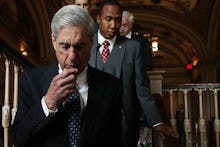 Is there some fire behind all that smoke?
It's too soon to say right now, but big moves by Robert Mueller this week revealed hints of possible collusion between the Kremlin and President Donald Trump's 2016 campaign.
The special counsel indicted former campaign manager Paul Manafort on Monday, along with his associate Rick Gates — who'd worked on Trump's inaugural committee and remained in contact with the White House into 2017.
Additionally, Mueller's office announced that former Trump foreign policy adviser George Papadopoulos plead guilty to lying to the FBI in early October and has apparently been playing ball with FBI investigators.
It kicked off a week of bad news for the White House, which has maintained that Mueller's moves have nothing to do with Trump and current administration officials.
But the documents — and embattled former campaign aides — have told a different story.
Here's what you need to know about this week's deluge of Russia news:
Mueller probe much further along than previously known
Manafort's surrender wasn't altogether surprising.
He was told in July to expect an indictment after having his home raided by Mueller's investigators; when it was reported last week that a grand jury had approved charges in the Russia probe, it was immediately speculated that he could be the target.
Papadopoulos, on the other hand, was a shocker.
On the radar of seemingly no observers, the former staffer's July arrest and subsequent guilty plea gave a glimpse at just how far Mueller's probe has progressed — and provided the clearest link yet between the campaign and the Russian government.
Papadopoulos attempted to broker meetings between the Trump campaign and the Kremlin, which he was told had dirt on Democrat Hillary Clinton.
The administration has downplayed both the Manafort/Gates charges, which include conspiracy against the United States, and Papadopoulos' role on the campaign.
"Few people knew the young, low level volunteer named George," Trump tweeted Tuesday.
But court documents unsealed by the special counsel on Monday clearly stated that Papadopoulos had repeatedly made his Russian contacts clear to more senior staffers — and brought up a possible rendezvous between the campaign and Russian President Vladimir Putin during a national security meeting with Trump and then-Sen. Jeff Sessions (R-Ala.), who is now attorney general.
Trump "listened with interest," the New York Times reported Tuesday, but Sessions "vehemently" railed against Papadopoulos' suggestion.
Monday was supposed to be a major milestone in Mueller's investigation: the first charges handed down in a long-simmering probe into Russia's interference in the 2016 presidential election. But the release of Papadopoulos' guilty plea that day showed that prosecutors have already been making huge moves behind the scenes — hidden from both the public eye and the White House, which was seemingly shocked by Mueller's moves.
What did Trump and his top aides know?
The White House, of course, has continued to play dumb.
White House press secretary Sarah Huckbaee Sanders sternly told reporters Monday that the developments in the Russia probe had "nothing to do with the president, has nothing to do with the president's campaign or campaign activity." Papadopoulos, she said, had an "extremely limited" role on the campaign.
But the former foreign policy adviser had apparently represented the campaign several times during 2016, and senior staffers — including Trump himself — were aware of his relationship-building with Russia.
That wasn't the only Russia connection Trump officials were seemingly aware of.
Carter Page — another former foreign policy adviser to Trump — met with Russian government officials in 2016, including one senior official, and told Sessions about it, he confirmed on Friday.
"It was such a nothing event," Page said Friday, recalling his conversation with Sessions about his upcoming Moscow trip. "It's totally in passing. It was nothing."
It may have been "nothing" to Page, but it could spell trouble for Sessions, whose testimonies on Capitol Hill have been called into question by the reveal that he seems to have known more about the campaign's Russia ties than he had previously indicated.
Trump, Republicans go on the attack
Mueller's big moves in the Russia investigation has put the Trump administration on its heels.
But the best defense is a good offense, as the saying goes, and the president and his allies have begun launching attacks on Clinton, the media and Mueller himself.
"The real collusion scandal," Sanders said in a press briefing Monday, "has everything to do with the Clinton campaign, Fusion GPS and Russia."
Trump has been suggesting that the real colluder was Clinton, not him, since it was revealed last week that her campaign had helped pay for the explosive Steele dossier.
Trump's allies, including angry weirdo Roger Stone, have also gone after the media for its reporting on the Russia developments. Stone was booted from Twitter after an online tirade in which he called journalists Don Lemon a "covksucker," Charles Blow a "piece of shit" and Jake Tapper a "human excrement."
Now, Trump and the Republicans are beginning to challenge the special counsel. Though Trump's lawyers have said he has no plans to fire Mueller, prominent Trump allies are gearing up to attack the former FBI director for, as they see it, leaning too hard on the Steele dossier.
Additionally, Politico reported Saturday, attorneys for Trump and other embattled officials are planning to go on the offensive against Mueller, with Jay Sekulow — one of the president's lawyers — saying he would go after the special counsel if he looks into Trump's old real estate deals as part of his investigation.
The implicit threat recalled the red line Trump drew for the special counsel back in July when he warned him not to look into his or his family's finances.
What's coming next for the Russia investigation?
Of course, in indicting Manafort and Gates, Mueller has indicated that taxes and other financial matters are fair game in his investigation.
The 12 counts against the two former campaign aides largely focus on the work they did on behalf of a pro-Putin Ukrainian political party.
That's bad news for Michael Flynn, Trump's former national security adviser, who has been accused of basically the same crimes as Manafort.
Flynn has made headlines in recent days amid reports that he had peddled the messages of Russian troll accounts just before the 2016 election.
The reveals this week about the campaign's Kremlin contacts have also become part of a pattern of "forgotten" meetings with Russians — most notably Donald Trump Jr.'s rendezvous with Russian lawyer Natalia Veselnitskaya in 2016, which he took believing she had dirt on Clinton.
Amid the deluge of Russia news, the White House has held that they believe the investigation is wrapping up. But the probe appears poised to stretch into 2018 and maybe beyond as Mueller moves forward.
The most recent development in that FBI probe is the news Friday that Kushner had recently turned over documents related to the controversial firing of former FBI director James Comey to Mueller, spotlighting once again the extent to which the investigation has pierced Trump's inner circle.