Rep. Nancy Pelosi says she'd support a ground invasion in North Korea as a last resort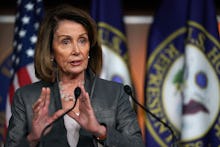 In response to a recent report by the Pentagon that a ground invasion would be the only way to eliminate North Korea's nuclear capabilities, 15 Democratic members of Congress have spoken out against the idea of a military conflict — but one top Democrat says it could be a possibility.
When asked about her support for a ground invasion on CNN's State of the Union Sunday, House Minority Leader Nancy Pelosi said she would be open to it as a last resort.
"Well, I think we have to exhaust every other remedy," Pelosi said. "North Korea's behavior has to be stopped, reversed — they cannot have a nuclear weapon."
Pelosi went on to say her concerns about North Korea extend to how the country sells its nuclear weapons, in addition to developing them for its own use.
"My concern about North Korea is not only what they're doing, but what they're advertising, that they may want to sell some of this technology," Pelosi said, citing a past trip to Pyongyang during which the country said it was developing nuclear technology to sell to other countries.
"So it's not only that they have it, but that they could sell it — and that proliferation ... is a danger to the entire world, and they must be stopped," Pelosi added.
The House leader emphasized her primary support for a diplomatic resolution, telling host Jake Tapper, "I'd like to think that we'd exhaust every diplomatic remedy because ... we're poking a stick in the eye of a mad dog."
The possibility of a ground invasion was condemned in stronger terms by many of Pelosi's Democratic colleagues — and one Republican — who called the Pentagon's report "deeply disturbing" in a joint statement.
"The thought of sending troops into harm's way and expending resources on another potentially unwinnable war is chilling," the statement, which was written by Reps. Ted Lieu of California and Ruben Gallego of Arizona, reads. "The president needs to stop making provocative statements that hinder diplomatic options and put American troops further at risk."
Another prominent Democrat, Sen. Dianne Feinstein, similarly shared her concerns about what a ground invasion could entail in a Sunday appearance on State of the Union.
"It is the most bleak assessment," Feinstein said about the Pentagon report. "I believe that an outbreak of war would kill hundreds of thousands of people, and I'm very pleased that [Secretary of State Rex Tillerson] is with the president. I think if he will stay the course and use diplomacy the way diplomacy can be used, then it might be possible to work something out.
"The worst alternative is a war, which could become nuclear," Feinstein added.