3 key takeaways from Donna Brazile's no-punches-pulled interview on ABC's 'This Week'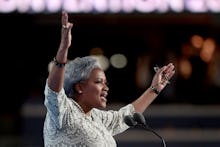 Just days before Democrats face key elections in Virginia and New Jersey, former Democratic National Committee chair Donna Brazile sparked controversy Thursday when Politico published an excerpt from her upcoming memoir. In it, Brazile alleged the DNC made a secret financial agreement with the Clinton campaign that gave the eventual Democratic nominee preferential treatment over Sen. Bernie Sanders.
Brazile's allegations sparked outrage on both sides of the political aisle, as progressive Democrats spoke out against the DNC and called for change while Republicans pushed for a new investigation against Hillary Clinton. President Donald Trump used the revelations to deflect from special counsel Robert Mueller's ongoing investigation, tweeting that Brazile's book is the "real story on collusion."
In the wake of the ongoing controversy, Brazile appeared on ABC's This Week on Sunday to discuss the book and her controversial claims. Here are three key takeaways from her conversation with George Stephanopoulos.
On replacing Clinton with Joe Biden
In addition to her financial claims about the Clinton campaign, Brazile's book reveals how she considered replacing Clinton and running mate Tim Kaine with Joe Biden and Cory Booker after Clinton fainted and was diagnosed with pneumonia in September 2016.
On Sunday, Brazile acknowledged that while the process of replacing the nominee wasn't solely up to her — she would have had to work in tandem with congressional leaders — she did contemplate doing so while "under tremendous pressure" after Clinton's fainting spell.
"I had to put in on the the table, George, because I was under tremendous pressure after Secretary Clinton fainted to have a quote, unquote, plan B. I didn't want a plan B. Plan A was great for me. I supported Hillary and I wanted her to win. But we were under pressure," Brazile said.
The former DNC chair added that while she never mentioned the possibility to Biden himself, the idea of a Biden/Booker ticket "was something you play out in your mind."
Ultimately, however, Brazile noted that getting the Clinton campaign back on track was her main priority at the time.
"My job at the time, George, was to reassure people, not just the vice president, but also reassure the Democratic Party ... that Hillary was doing fine and that she would resume her campaign the following week," Brazile said. "Look, the bottom line is she — she resumed campaigning. I went on TV to say that the campaign was back on track."
On allegations the DNC "rigged" the campaign
Some — including Sen. Elizabeth Warren (D-Mass.) — have pointed to Brazile's book as evidence the Democratic primary campaign was "rigged" in favor of Hillary Clinton.
When asked about Warren's conclusion, however, Brazile denied that was the case.
"I don't think [Warren] meant the word rigged, because ... I said I would get to the bottom of everything. And that's what I did," Brazile said. "I called [Sanders] to say, you know, I wanted to make sure there was no rigging of the process. I was on the rules and bylaws committee. I found no evidence, none whatsoever. The only thing I found ... was this memorandum that prevented the DNC from running its own operation."
When pressed by Stephanopoulos, Brazile wouldn't say if she believed Clinton's DNC agreement to be "anything illegal at all." Though emails cited by Stephanopoulos revealed the Sanders campaign was offered a fundraising deal in the event Sanders moved on to the general election, Brazile did not corroborate this, saying she's "never seen" any agreements with Sanders.
Brazile also dismissed Trump's urging of an investigation into Clinton and the DNC as a "distraction," saying, "I'm not playing his game."
"I think he needs to look at his own house before he tries to clean up someone else's house," Brazile said.
On regretting or apologizing for her actions
Clinton allies have taken issue with Brazile's comments, with more than 100 staffers from Clinton's campaign signing an open letter condemning Brazile's remarks and her claims about the campaign, which Brazile described as being "antiseptic" and "sterile."
Brazile had harsh words for these critics, saying they should "write their own book" if they don't like what she has to say.
"They should take a page from Hillary's book. Take a look inside of what they did last year and then they should write their own book," Brazile said. "If they don't like my book, don't buy it."
For individuals both inside and outside the Clinton campaign who have taken issue with Brazile's comments, Brazile had an even harsher response: "Go to hell."
"George, for those who are telling the me to shut up, they told Hillary that a couple of months ago. You know what I tell them? Go to hell. I'm going to tell my story," Brazile said. "Because this is a story of a young girl who started in American politics at the age of 9, who continues to fight each and every week of her life."
"I care about my country, I care about our democracy. And I say 'go to hell' because, why am I supposed to be the only person [who] is unable to tell my story?" Brazile continued.
Brazile added that her critics "don't know what it's like" to have had her experiences at the DNC, particularly in dealing with the Clinton campaign.
"The high command of Brooklyn, the people who were making the decisions, even for the DNC, they didn't come and work with us. They told us to shut up and basically let them win the election. And when we tried to intervene, we had to spend money we raised to try to help them win. And that was my job as chair of the party," Brazile said.
Ultimately, however, though Brazile said she "takes responsibility" for Democrats' shortcomings in recent elections, she has no regrets about her role in the 2016 election.
"George, this was worse than Hurricane Katrina in terms of the emotional toll," Brazile said. "But do I regret standing up for what's right, helping Hillary Clinton, helping the Democratic Party? And ... as somebody who went through the hacking experience, being able to tell the truth about what happened with the Russians, the attack on our government, do I regret any of that? No. I wish I could have done more, George.
"Yes, I take a hard, hard hit at people within the party because I love my party. I love my country. And I'm going to continue the fight for it," she added later.