Hype List: What to check out this week, including Taylor Swift and 'The Girlfriend Experience'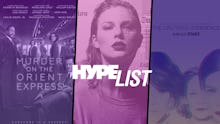 Welcome to the Hype List, a weekly recommendation series in which columnist Tirhakah Love highlights all of the pop culture happenings — movies, music, television, books and more — you need to know about.
TV: The Girlfriend Experience
The Girlfriend Experience's first season was appealing because of its hyperrealistic look at sex and its exploration of corrosive corporate culture. In its second season, executive producer Steven Soderbergh reformats the anthology series by telling two parallel stories penned and produced by two separate teams.
One is laced with political intrigue, centering on a Republican super PAC finance director (played by Anna Friel) who hires an escort to blackmail a powerful fundraiser. The other follows former escort Bria Jones (Carmen Ejogo), whose witness protection assignment plops her in small-town New Mexico. But the show's reshuffle doesn't mean the pristine sex scenes and minimalist filming style have been left behind. Instead, the images are now rooted in grander stakes, making the show feel even more real than before.
The second season of The Girlfriend Experience currently airs on Starz at 9 p.m. Eastern time on Sundays.
Music: Reputation by Taylor Swift
Taylor Swift's sixth studio album, Reputation, will be released at what's quite possibly the most controversial point of her career thus far. For years, the singer-songwriter has faced all sorts of criticism, including charges of exploitative songwriting and cultural appropriation — but now she's putting out her first record since she took took her first "L" in her ongoing feud with Kanye West. And judging from Reputation's marketing, the pop icon looks like she's ready to tell her side of all those stories.
The cover art comes complete with shade (the dramatic font recalls the aesthetic of West's 2016 album, The Life of Pablo), and the album's lead single, "Look What You Made Me Do," finds Swift reinventing her sound to feature more electronics and declare the "old" Taylor Swift "dead." She's looking locked, loaded and ready to take down all her naysayers. No matter what, though, this will end up becoming one of the most-spun records of the entire year, regardless of whether Swift is successful in changing the narrative around her. Reputations be damned.
Reputation will be released Friday via Big Machine Records.
TV: 30 for 30: Nature Boy
Sports, hip-hop, and television — iconic wrestler Ric Flair permeated them all during his decades-long heyday, before personal trouble led to his decline in the mid-'90s. That's the story at the heart of ESPN's latest 30 for 30 documentary, Nature Boy, which chronicles how Flair's rambunctious, golden-haired persona caused him to lose grasp on reality. Despite Flair's very public personal troubles over the years — gambling, alcoholism, affairs and divorces — it's rare to see him being so honest about the destructive toll his stardom took on him. The film promises to be a revealing look at the greatest performer to ever step in the ring — and the fragile ego he tried to escape.
30 for 30: Nature Boy premieres Tuesday at 10 p.m. Eastern time on ESPN.
Movie: Murder on the Orient Express
The most recent (and still terribly named) adaptation of Agatha Christie's 1934 murder mystery is a star-studded affair with blockbuster written all over it. Kenneth Branagh, who doubles as the film's director, plays a charismatic detective amid a dozen suspects (Michelle Pfeiffer, William Dafoe, Penelope Cruz and others) in the killing of a wealthy businessman (Johnny Depp).
With such heavy-hitters involved, it's a bit surprising Branagh thrusts the titular train into its own kind of character evolution. The train's backdrop can go from glamorous to gravid at a moment's notice, reflecting the uncertainty of the murder within the film's setting. Branagh's team built a legit functioning locomotive to immerse the cast in its claustrophobic feel, making every small moment shared among the film's many superstars all the more meaningful. Pardon the pun, but this is the star vehicle of the holiday season.
Murder on the Orient Express opens in theaters Friday.
TV: Lady Dynamite
With its surreal, color-saturated palette and fourth-wall-breaking antics, Lady Dynamite has all the makings of an out-of-touch, navel-gazing sitcom with a stand-up comedian at its center — the kind of show that dominated the ratings long before Netflix came along. But Maria Bamford's wink-wink comedy is, like much of her stand-up act, marked by a humane depiction of mental illness.
While much of the first season was dedicated to Bamford's struggles to make it in the comedy world, the second is much more centered around romance. At the start, she moves in with Scott (Ólafur Darri Ólaffson) and is immediately reminded how her illness can create barriers in relationships. But even with the adult dynamics at play, the show's giddy visuals and ridiculous characters — including talking raccoons and a bevy of others — are back in full force. Come for the pugs, stay for the love.
The second season of Lady Dynamite will be released Friday on Netflix.
Movie: Intent to Destroy: Death, Denial & Depiction
In this study of the Armenian Genocide by the Ottoman Empire (which, from 1915 to 1917, claimed the lives of nearly 1.5 million Armenians) and its subsequent denial, Academy Award-nominated director Joe Berlinger (Paradise Lost 3: Purgatory) explores the movie industry's place in global-political censorship. Because of America's diplomatic ties with Turkey, the truth of the massacre has largely been suppressed; even in Hollywood, filmmakers who have attempted to take on the story have been met with threats.
Berlinger — engaging with a number of historians, Armenian descendants and filmmakers, including director Terry George, whose 2017 film The Promise is about the genocide — plots out how a culture of complicity begins and is sustained for more than a century. The film looks to be building momentum, having just won best documentary film from at Los Angeles Documentary Film Festival, and succeeds in raising awareness about the historical erasure that continues even today.
Intent to Destroy: Death, Denial & Depiction open in theaters Friday.
TV: Fate/Apocrypha
If you've wondered how Netflix plans on seizing the future, just take a look at the 20 or so anime series the streaming service has picked up in the past 12 months. That brings us to Apocrypha, a spinoff of the anime franchise Fate and the latest pickup in Netflix's anime-hunt.
At the center of each story sits the Holy Grail — which, in this series, is not a bedazzled chalice but an omnipotent being who grants wishes. People have to ruin everything, of course, so they come up with factions and initiate endless war to control its power. Co-creator Kinoko Nasu supervises the series' 25 episodes (which are broken up over two sections, or "cours") with a ton of fantasy-world-building to take on. But as we learn more about this world, it's tough to avoid getting enveloped in the political drama, delicious fight scenes and critique of the tribalism that's undergirding the systems of government.
Fate/Apocrypha will be released Tuesday on Netflix.