Report: Robert Mueller now has evidence to bring charges against Michael Flynn and his son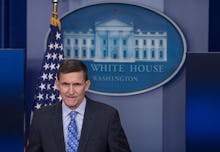 Less than a week after the indictment of former Trump campaign manager Paul Manafort, a new report has revealed that another former Trump associate — and his son — could soon have charges brought against them.
Special counsel Robert Mueller and his team reportedly have enough evidence to charge Michael Flynn, who briefly served in the Trump administration as national security adviser, NBC News reported Sunday. Flynn would mark the first official from the Trump administration, rather than the Trump campaign, to be charged with criminal acts.
Flynn has been a target of Mueller's investigation due to his work with his lobbying firm, Flynn Intel Group. The former national security adviser is being investigated for allegations that he worked with the Turkish government to remove one of Turkish President Recep Erdogan's key rivals from the U.S. to Turkey in exchange for millions of dollars. Mueller is also looking into other potential wrongdoing in relation to Flynn's overseas contacts, including money laundering and lying to federal officials, according to the NBC report.
Flynn did not formally register as a foreign agent during his work with Turkey — but did so retroactively earlier in 2017 — which is also a source of concern for Mueller's investigation. Mueller charged Manafort and associate Rick Gates with being unregistered agents of a foreign principal after the two similarly failed to register their alleged lobbying on behalf of the Ukrainian government.
The former national security adviser resigned from the Trump administration in February after it was revealed he had lied about a meeting with Russian ambassador Sergey Kislyak. Though Mueller's investigation into Flynn is reportedly focused on his Turkish ties, NBC also noted that a 2015 speech Flynn delivered at a gala in Moscow attended by Russian President Vladimir Putin, for which he was paid by Russian state media, "raised concern among federal officials."
In addition to the elder Michael T. Flynn, Mueller is also reportedly planning to bring charges against Flynn's son, Michael G. Flynn, whose work with his father included accompanying him during the Trump campaign and briefly serving on Trump's transition team. He was fired from the transition team in December after spreading a false story about Hillary Clinton on Twitter.
In the wake of the NBC News report, the same Twitter account, which seems to belong to Flynn Jr. but is unverified, hit back against the report of the impending charges, writing: "The SJW are out in full this morning....the disappointment on your faces when I don't go to jail will be worth all your harassment."
The charges against the younger Flynn, which sources report to NBC could be served either separately or at the same time as his father, may be used as a bargaining tool to persuade the elder Flynn to cooperate with Mueller's investigation.