Former HUD Secretary Julián Castro says he might run for president in 2020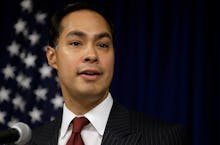 At the 2017 Voto Latino Power Summit in Austin, Texas on Sunday, former Housing and Urban Development Secretary Julián Castro announced he might run for president in 2020, according to Houston Chronicle writer Jeremy Wallace.
"Whoever becomes the Democratic nominee has to stand for the future," the former HUD secretary for President Barack Obama said, according to Voto Latino's Twitter. "They have to stand for everything that Trump is not."
Castro said he would come to a final decision about a possible White House bid by the end of 2018.
In a February op-ed for the Hill, writer Jason Nichols made the case for the former HUD secretary to win the Democratic Party's nomination in 2020, arguing Castro is a "political prodigy" whose bona fides with the Mexican-American community make him "the perfect person to market himself as the anti-Trump."
"Julian Castro has all the makings of a classic politician," Nichols wrote. "He is a political prodigy, having been elected to San Antonio City Council at the tender age of 26. He knows the inner-workings of Washington, having been a high-ranking member of the previous presidential Cabinet. He's been relatively quiet and been scandal-free aside from a minor violation of the Hatch Act."
Regardless of whether you buy Nichols' argument, there's evidence at least one top Republican has used Julián Castro and his brother, Rep. Joaquín Castro (D-Texas), as partisan bogeymen: In 2016, Sen. Ted Cruz (R-Texas) fundraised for his Senate campaign by telling his email subscribers he needed their help "in order to stop the Castro brothers' attempts to bring their liberal ideology to the halls of the U.S. Senate."
Julián Castro was the Democratic Mayor of San Antonio, Texas from 2009 to 2014. Prior to that, he served as a member of the San Antonio City Council.