Trump Commerce secretary has financial links to Vladimir Putin's family, Paradise Papers show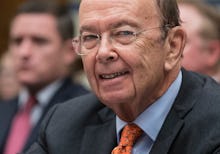 Commerce Secretary Wilbur Ross has financial ties to Russian President Vladimir Putin's family and did not disclose those links during his Senate confirmation process in February, NBC News reported Sunday.
The ties stem from Ross' financial interest in Navigator Holding, a shipping company that transports oil and gas for Sibur, a Russian energy company in which Putin's son-in-law and close friends are shareholders, according to the BBC.
Putin's son-in-law, Kirill Shamalov, has a 3.9% stake in Sibur, while Gennady Timchenko — a close friend of Putin who has been sanctioned by and barred from entering the U.S. — is also a large shareholder.
The U.S. government sanctioned Timchenko in 2014 for "acting for or on behalf of or materially assisting, sponsoring, or providing financial, material, or technological support for, or goods or services to or in support of, a senior official of the government of the Russian Federation."
"Timchenko's activities in the energy sector have been directly linked to Putin," the Treasury Department said in a news release announcing the sanctions.
Ross — a billionaire who said he divested most of his financial holdings to avoid conflicts of interest for his role as head of the Commerce Department — did not divest nor fully disclose his financial holdings in the shipping company.
The revelation marks the latest Trump administration official to be linked in some way to Putin or his inner circle and comes amid special counsel Robert Mueller's ongoing investigation into Trump's possible Russian ties.
The links were discovered in a massive document dump called the Paradise Papers, a cache of 7 million documents from the Bermuda-based law firm Appleby. The documents were leaked to German newspaper Süddeutsche Zeitung and were shared with a host of investigative journalists at other media outlets across the globe that analyzed and reported on the documents' contents.
According to the International Consortium of Investigative Journalists, a spokesperson for Ross affirmed the secretary has never met Shamalov or Timchenko.
"[Ross] recuses himself from any matters focused of transoceanic shipping vessels, but has been generally supportive of the administration's sanctions of Russian and Venezuelan entities," the spox said.