At least 26 killed in mass shooting at church near San Antonio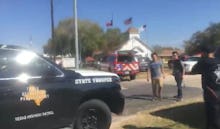 A gunman entered the First Baptist Church in Sutherland Springs, Texas, on Sunday and opened fire, killing at least 26 people, according to the New York Times.
"[The gunman] went there, he walked in, started shooting people and then took off," Rep. Henry Cuellar (D-Texas), who confirmed the death toll, told the Times.
Police said the suspect, whom they did not immediately identify, initially fled the scene of the shooting, but is now dead, NBC News reported. Nothing is immediately known about his motive for the attack.
By Sunday evening, multiple outlets had identified the alleged gunman as 26-year-old Devin Patrick Kelley. A CBS News correspondent shared a photo of the suspect on Twitter.
In the aftermath of the shooting, Texas Gov. Greg Abbott tweeted his prayers to the victims of the "evil act."
"Our prayers are with all who were harmed by this evil act," Abbott wrote. "Our thanks to law enforcement for their response."
Sen. Ted Cruz (R-Texas) tweeted his gratitude for the state's "brave first responders."
"Keeping all harmed in Sutherland Springs in our prayers and grateful for our brave first responders on the scene," Cruz wrote.
President Donald Trump similarly tweeted his prayers to victims of the shooting.
"May God be [with] the people of Sutherland Springs, Texas," Trump wrote. "The FBI [and] law enforcement are on the scene. I am monitoring the situation from Japan."
At a presser on Sunday evening, Trump promised his administration would support the authorities investigating the shooting.
"Through the tears and through the sadness, we stand strong," the president said.
This is a breaking news story and will be updated as more information becomes available.
Nov. 6, 2017 10:07 a.m.: This story has been updated.