Kushner investor also invested in Facebook and Twitter with Kremlin money, Paradise Papers show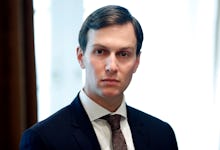 A recently leaked set of documents has revealed a technology magnate with ties to Jared Kushner made significant investments in Facebook and Twitter by way of two Russian state-controlled institutions with close ties to Vladimir Putin.
Known as the Paradise Papers, the trove of documents contains evidence that Russian billionaire Yuri Milner — who holds a stake in a company that Kushner, President Donald Trump's son-in-law and a senior White House adviser, co-owns — made contributions to the tune of hundreds of millions of dollars to the social media behemoths, all of which was backed by the Kremlin.
The revelation is likely to stoke growing concerns over Russia's use of social media to influence the outcome of the 2016 presidential election in Trump's favor.
According to the Guardian, which reviewed the cache of leaked documents along with International Consortium of Investigative Journalists and others, the Russian state-controlled VTB Bank funded a $191 million investment in Twitter in 2011, right around the same time the Russian oil and gas company Gazprom Investholding was funneling money into an investment vehicle that held $1 billion worth of Facebook shares.
Milner, according to the report, has claimed VTB's funding yielded no influence at Twitter and denied having prior knowledge that Gazprom Investholding had backed his contributions to Facebook. He has also downplayed his connections to Kushner, claiming to have only met him briefly for drinks once in 2016.
"I'm not involved in any political activity. I'm not funding any political activity," Milner said, according to the Guardian.
But the news comes at a time when Trump's presidential campaign is under close scrutiny for potential collusion with the Russian government — and is likely to raise eyebrows as special counsel Robert Mueller's federal investigation continues.
November 21, 2017 10:56 p.m.: Mic updated the headline of this story to better reflect Yuri Milner's relationship with Jared Kushner.