A Texas congressman, falling for a 4chan joke, just went on CNN and misidentified the church shooter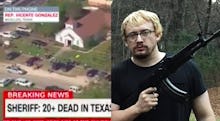 Here we go again.
On Sunday night, when Rep. Vicente González (D-Texas) went on CNN to address a church shooting that resulted in at least 25 reported deaths so far, he called the shooter out by name: Sam Hyde. The trouble is, Sam Hyde isn't the shooter, but a beloved comedian of the so-called "alt right."
Just about every time there is a mass casualty incident — Sandy Hook, the Aurora theater massacre, the Pulse nightclub shooting, to name a few — Hyde's fans dutifully tweet out that Hyde was the shooter, with quips like "Not again!" and "Sam Hyde can't keep getting away with it."
Usually, journalists on Twitter work fast to debunk the claim. This time, it seeped through to national television:
Hyde is the favorite comedian of the morally dubious corners of the internet like 4chan, ostensibly "trolling" in awkward on-camera stunts centered on racist hijinx. Hyde allegedly donated $5,000 to the legal defense fund of neo-Nazi leader Andrew Anglin.
Here at Mic, we've written about this exact issue involving Hyde twice before. Please, let this be the last.