Mic Wakeup: Mass shooting in Texas church, #ParadisePapers and (perhaps) looming Mueller charges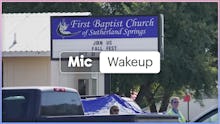 Here are three stories to start your day on Monday, Nov. 6.
Shooting at Texas church
On Sunday, a gunman entered a church in Sutherland Springs, Texas, and killed at least 25 people. The alleged gunman has been identified as 26-year-old Devin Patrick Kelley — not Sam Hyde. The motive for the shooting is not immediately known.
The Paradise Papers
Three hundred eighty-one journalists from 67 countries and 96 media partners have been investigating the so-called Paradise Papers, a 13.4 million-file leak largely concerning a firm called Appleby. They shed new light on how individuals and companies flout regulations through offshore holdings. They also show that Commerce Secretary Wilbur Ross has undisclosed ties to Russian President Vladimir Putin's family and a Jared Kushner associate invested Kremlin money in Facebook and Twitter.
Mueller, Mueller, Mueller!
NBC News reported Sunday that special counsel Robert Mueller reportedly has enough evidence to bring charges against former national security adviser Michael Flynn and his son, Mike Flynn Jr. The charging of the elder Flynn would mark the first member of Trump's administration ensnared by the probe. Here's everything we know.
Nov. 6, 2017, 7:51 a.m.: This article has been updated.