In the wake of deadly church shooting, Texas attorney general calls for more guns in churches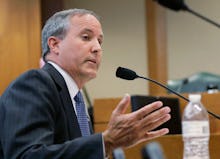 Just hours after a gunman opened fire in a Sutherland Springs, Texas, church Sunday morning, killing at least 26 people and wounding 20 more, Texas' attorney general praised the state's conceal carry laws and called for more armed parishioners in churches.
"This is going to happen again," Republican Attorney General Ken Paxton told Fox News on Sunday. "All I can say is that in Texas, at least we have the opportunity to have concealed carry ... If it's a place where somebody has the ability to carry, there's always the opportunity that gunman will be taken out before he has the opportunity to kill very many people."
Paxton proposed that churches should consider hiring either "professional security" or "at least arming some of the parishioners or some of the congregation" to prepare for the threat of mass shootings.
The alleged gunman in Sunday's deadly attack has been identified as Devin Patrick Kelley. The 26-year-old allegedly killed at least 26 people at First Baptist Church, including young children.
A local resident reportedly grabbed Kelley's rifle and gave chase, exchanging gunfire with the suspect until Kelley "ran off the road in his car at the Wilson-Guadalupe county line and crashed," NBC News reported.
Speaking to Fox News, Paxton seemed to suggest armed bystanders were one way to mitigate mass shootings, which he also implied were difficult to stop with legislation.
"You can't necessarily keep guns out of the hands of people who are going to violate the law," Paxton said. "If someone is willing to kill someone, they're also going to be willing to violate a gun law."
Donald Trump Jr. also seemed to echo that talking point in a tweet Monday morning, writing "Psycho [with] illegal gun kills many, taken down [by] law-abiding citizen [with] gun. Which one of these would be out of the equation [with] more gun control?"
However, the NRA-backed argument that the only solution to a bad guy with a gun is a good guy with a gun has been challenged by experts and academics. A paper published by Stanford researchers in June found states that had enacted "right-to-carry" concealed handgun laws saw higher increases in violent crime.
"For years, the question has been, is there any public safety benefit to right-to-carry laws? That is now settled," the paper's lead author, John Donohue, told Vice in July. "The answer is no."
Nov. 7, 2017, 3:20 p.m.: This story has been updated