Trump calls Texas shooting mental health issue after making buying guns easier for the mentally ill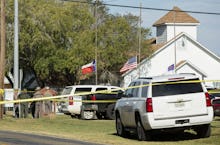 President Donald Trump refused to call for gun control in the wake of a deadly mass shooting at a church in Texas, saying the incident was a reflection of "a mental health problem at the highest level," and not a gun issue.
"This isn't a guns situation," Trump told reporters at a news conference in Japan, where he's visiting as part of a 12-day trip through Asia.
"This is a mental health problem at the highest level," he said. "It's a very, very sad event. These are great people, and a very, very sad event. But that's the way I view it."
Trump, however, made it easier for the mentally ill to buy guns this year, when in February he signed a bill revoking an Obama-era rule that sought to prevent those with serious mental health issues from buying guns.
The rule required the Social Security Administration to report those who are deemed incapable of handling their Social Security benefits to the national background check system. It was made in the wake of the 2012 mass shooting at the Sandy Hook elementary school that left dozens dead, including 20 children.
Trump also declared the shooting a mental health problem before any public reports about the shooter's mental health.
Devin P. Kelley — identified as the gunman who opened fire and killed at least 26 people at the First Baptist Church in Sutherland Springs, Texas — had a history of domestic violence. He was given a bad conduct discharge from the Air Force in 2012, after he assaulted his wife and child, NBC News reported.
But there's been no public information on whether Kelley had a mental health issue.