In memoriam: One year since the election, a look at who's departed the Trump administration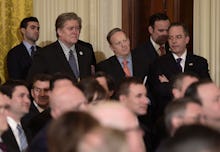 It's been a year since President Donald Trump was voted into office, after a historic and chaotic campaign in which he vowed to surround himself "only with the best and most serious people" if elected.
Since taking office in January, however, at least a dozen of Trump's staffers — some in key West Wing positions — have quit or been been unceremoniously fired.
The frequent staff turnover caused Trump headaches in the crucial first months of his tenure, frequently distracting from his agenda and leading to days of negative media coverage of his administration. Perhaps most famously, the controversial sacking of FBI Director James Comey led to the appointment of special counsel Robert Mueller, whose investigation is now gripping Trump's inner circle.
Here's a look at those who have left the White House over the past year.
Sally Q. Yates
Trump fired then-acting Attorney General Sally Q. Yates on Jan. 30 — just 10 days after he was inaugurated.
Yates had told Justice Department lawyers not to defend Trump's hotly-contested January travel ban. She later told a Senate panel that she considered the ban to be "unlawful." Her opinion on Trump's executive order was cited as the reason for her dismissal.
However, behind the scenes, Yates had warned the White House that then-national security adviser Michael Flynn had been compromised by the Russians.
Michael Flynn
Flynn resigned from his role as national security adviser in February after he was caught lying about his communication with a Russian official regarding the sanctions former President Barack Obama placed on the country.
Now, Flynn is in likely in serious legal jeopardy. Mueller reportedly has enough evidence to charge Flynn with criminal acts, according to a report from NBC News.
James Comey
Trump's decision to fire Comey in May was one of the most high-profile and dangerous firings Trump issued since taking office.
Comey's dismissal ultimately led to the appointment of Mueller, who has already delivered one guilty plea and handed down two indictments in his ongoing probe, and has the evidence to indict more people in Trump's orbit.
Katie Walsh
Walsh was relieved of her role as deputy chief of staff in March following one of the handful of failed GOP efforts to repeal the Affordable Care Act.
The White House said it was moving Walsh — who was an ally of soon-to-be-ousted Chief of Staff Reince Priebus — to a pro-Trump super PAC, America First Policies, to help bolster the president's legislative agenda.
However at the time, some questioned whether moving Walsh out of the White House was an effort to take away allies of Priebus in an effort to push him out the door.
Mike Dubke
Dubke, a Trump team newcomer who reportedly struggled to form alliances within the administration, resigned as Trump's communications director in May.
A few months later, the role was filled by financier Anthony Scaramucci in July.
Scaramucci lasted just 10 days in the job — and Trump did not fill the role again until mid-September, when he elevated longtime Trump staffer Hope Hicks to the position.
Sean Spicer
After an acrimonious and frequently lampooned tenure as press secretary, Spicer announced his resignation in July when Trump named Scaramucci as his communications director.
After announcing his exit, Spicer stuck around the White House for a month, taking a behind-the-scenes role before officially leaving on Aug. 31.
Michael C. Short
Like Spicer, assistant White House press secretary Michael C. Short staffer resigned over Trump's choice to hire Scaramucci.
Short, like Spicer and Priebus, previously held a role at the Republican National Committee before joining the Trump team.
Reince Priebus
Trump unceremoniously fired Chief of Staff Reince Priebus in a tweet back in July, and replaced him with then-Homeland Security Secretary John Kelly.
Publicly, the Trump administration painted Priebus' departure as a resignation. However multiple reports indicated Priebus was pushed out.
Anthony Scaramucci
Scaramucci is the shortest-tenured and perhaps most memorable member of the Trump administration. He was fired from his role as communications director just 10 days into the job.
His firing came at the hands of Kelly, who had just been named chief of staff and was reportedly trying to curb the chaos in the West Wing.
While Scaramucci's tenure was short, it did not lack for drama, as he gave an interview to the New Yorker in which he went on a vulgar tirade against Priebus and other White House officials.
Steve Bannon
Bannon, one of Trump's most controversial team members, was fired from his chief strategist role in August. He has since returned to Breitbart, where he worked prior to his role in the Trump campaign and the White House.
Since his departure, Bannon has been a thorn in the side of Washington Republicans, as he is striving to oust "establishment" GOP lawmakers from office in contested primaries.
Sebastian Gorka
Gorka resigned from his position as a deputy assistant to Trump in August, saying the White House was being taken over by people who did not "support the MAGA promise" — a reference to the populist Make America Great Again "America First" agenda that helped sweep Trump into office.
Tom Price
Price resigned from his role as secretary of Health and Human Services in September after reports surfaced that he spent hundreds of thousands of taxpayer dollars on private jet travel — even when far cheaper commercial flights were available.
Price's resignation left HHS without a permanent leader right before sign-ups for ACA plans began.
Trump has yet to nominate a new HHS secretary.
Almost famous: Trump's failed nominees
In addition to the above high-profile staffers who have left the White House in the past year, there were numerous others who were never confirmed to their roles and chose to resign before going through a confirmation vote.
Labor secretary nominee Andrew Puzder resigned in February after it surfaced that his wife had accused him of domestic abuse years ago.
Todd Ricketts, who is part owner of the Chicago Cubs and son of DNAInfo/Gothamist owner Joe Ricketts, withdrew his nomination as secretary of Commerce in April over concerns about his business conflicts of interest.
Vincent Viola, the billionaire owner of the Florida Panthers hockey team, withdrew his name as secretary of the Army, also over his inability to untangle himself from his business interests.
Another Army secretary nominee, Mark Green, also withdrew his name after it was discovered he'd said that being "transgender is a disease."
And most recently, Sam Clovis withdrew from his nomination as the Department of Agriculture's chief scientist after it was revealed he is tangled up in Mueller's Russia probe.