@Diet_Prada is calling out fashion phonies — and taking prisoners along the way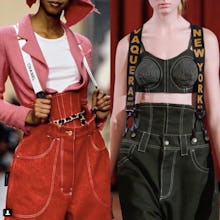 Diet Prada, an Instagram account that's amassed over 93,000 followers since it first launched in October 2014, has the fashion world enthralled. A unique fusion of modern-day guilty pleasures — think call-out culture and receipts — with deep-seeded sartorial knowledge to back up its claims, the account helps call out fashion's penchant for copycats. If the clever captions don't make it clear, Diet Prada's bio, which reads "ppl knocking each other off lol," shows its distinct tone when it comes to naming names.
Though the duo behind the account has remained largely anonymous, both individuals have more than 10 years of industry experience — plus a coveted stamp of approval from supermodel Naomi Campbell. "Call it out, call it out, call it out. Diet Prada is not going to let anyone get away with copying. Diet Prada does not like that," Campbell said during a recent Instagram Live. "There's a few things coming out that I know you're gonna call out for sure. Keep a lookout for the covers; check my archives."
From Zara and Forever 21 to Nasty Girl and Kylie Jenner, fashion copycats seem to be everywhere. Do they see this trend as being out of control? "Oh totally," Diet Prada said in an email interview. "Look at the success of fast fashion brands. Do you think Zara would be performing like they are if people didn't want imitation fashion?" The biggest offender they've named so far is Off-White, a brand they claim tends to cherry-pick from all different labels. As for the most preyed-upon brands (besides, of course, Prada): Céline, Belenciaga and Vetements.
As Mic previously reported, "While knockoffs (as distinct from garments/accessories that enjoy copyright, trademark and/or patent protection) are ethically questionable, they are completely legal in the U.S.," according to Julie Zerbo, founder and editor-in-chief of the Fashion Law blog.
But that negates the pressure these offenders can feel when called out vociferously in public, something Diet Prada is not the least bit shy about doing.
So, why Diet Prada? "We're huge Prada fans we see them as one of the true originals in the industry," the pair said. "People copy their signatures constantly and it always just looks weak or derivative, like a diet version. Not that Diet Coke is bad; we love Diet Coke."
Despite having a handful of designers or stylists reach out to them directly, they say those who do usually wind up embarrassing themselves: "You got caught copying. What are you gonna do?" Diet Prada has also been helpful in signal boosting on behalf of indie designers, whose reaches usually come nowhere close to more established brands that may be copying them.
"A London jeweler who got copied by Valentino got them to stop selling her ring design. We helped boost her story," they said. Another victory? Helping rid the fashion industry of its problematic ties to photographer Terry Richardson. "We were the first ones to bring up Terry again when Valentino published the resort campaign, which we think led to the infamous [Condé Nast] memo."
What does Diet Prada want the fashion industry to take away from the work it's doing? "Just try to design with your heart," the duo said. "Find something you love and focus on it. If you're starting a brand or changing brand direction based on someone else's product, just stop! Nobody needs another trim market Gucci."
Amen to that.