Sutherland Springs Shooting: 6 ways the Texas shooting is similar to recent mass shooting incidents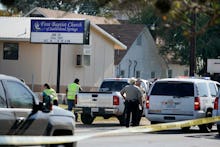 Welcome to Mic's daily read on Donald Trump's America. Want to receive this as a daily email in your inbox? Subscribe here.
Every day, we bring you a different dispatch on Trump's America. Today's focus: 26 dead.
Monday's dispatch: 6 elements of the Sutherland Springs mass shooting that are all too familiar
A gunman walked into a Baptist church in the small Texas town of Sutherland Springs on Sunday morning and opened fire with an AR-15 variant, killing 26 people, including eight members of one family. Many more were injured in the incident. The gunman, identified by the Texas Department of Public Safety as Devin Patrick Kelley, fled the scene. He died shortly afterwards following a vehicular chase.
Three of the deadliest mass shootings in modern American history have occurred in the last 17 months. On Oct. 1, a shooter in Las Vegas killed 58 people. In June 2016, a gunman in Orlando, Florida, killed 49 people at the Pulse nightclub.
Here are six ways the Sutherland Springs mass shooting is similar to previous mass shootings.
1) The gun: Kelley, 26, is thought to have used a variant of the semi-automatic AR-15 rifle to kill 26 people.
An AR-15 or a variant of one was also used by the mass shooter at a movie theater in Aurora, Colorado, in July 2012; by a couple at a holiday party in San Bernardino, California, in December 2015; by a man in Colorado Springs, Colorado, in November 2015; and at the mass shooting in Las Vegas. A similar gun was used by the gunman at Sandy Hook Elementary School in Newtown, Connecticut, in December 2012 and by the shooter at the Pulse nightclub.
This list is not comprehensive, but is meant to reflect how semi-automatic, military-style rifles are commonly used in the mass shootings that result in the highest casualties.
Mother Jones found that from 1982 to 2012, nearly half the guns used in mass shootings were semi-automatic handguns.
2) The gun was purchased legally: Kelley bought his AR-556 in April 2016, according to CNN, and he passed the federal background check when he purchased the weapon. This follows a pattern of mass shooters in the U.S. obtaining guns used in the attacks legally.
3) Rate of fire: Weapons used in mass shootings in the U.S. with the highest casualty rates typically involve semi-automatic weapons. This means the gun can fire one shot per trigger pull, but reloads its rounds automatically between pulls.
In Las Vegas, the shooter was able to discharge rounds continuously with one trigger pull. Civilians are not permitted to buy automatic weapons, though modifications can convert semi-automatic rifles into fully automatic firearms.
4) The shooter: Kelley had a several-year history that raised flags about his behavior but legally allowed him to purchase a gun. He reportedly joined the Air Force in 2009. In 2012, he was court-martialed for assaulting his wife and child, the Washington Post reported. He was sentenced to 12 months confinement, and discharged from the military in 2014.
5) Thoughts and prayers: Republican politicians once again offered "thoughts and prayers" on social media for victims of the mass shooting. This has become a common refrain for conservative politicians in the wake of mass shooting incidents. Democrats and liberals have become quick to respond to such condolences, saying "thoughts and prayers" will not prevent another mass shooting.
6) "This isn't a guns situation:" That was Trump's preliminary evaluation on Sunday during a news conference in Tokyo. He said this was a "mental health problem at the highest level," and seemed to preempt any conversation that gun laws should be addressed after the deadly event.
A few differences: Kelley was able to flee the scene of the shooting, but not before being shot at by a neighbor. After an exchange of gunfire, Kelley sped off — followed by the neighbor and another passerby. After a high-speed chase, Kelley's car crashed into a ditch, where he died of a gunshot wound. It's unclear whether the gunshot was self-inflicted, or if he was shot by the neighbor.
Today's question: Are you numb to these shootings?
Please send us your thoughts at trumpsamerica@mic.com.
This week in Trump's America:
By the end of this week, we should see the path forward for tax reform.
Beginning Monday, House Republicans will spend four days working through the details of their tax reform proposal. This gives members of the GOP time to review the bill and raise any objections. That feedback will be key to determining whether the legislation has enough Republican support to pass the House.
Senate Republicans will release their own tax plan this week, which is likely to have smaller cuts than the House version. The House plan is already raising concerns in the Senate — just like the House-passed health care bill. Republican senators have said the bill does not cut taxes enough for small businesses and penalizes home seekers living in expensive parts of the country.
Less than one week into Obamacare open enrollment, Trump's cuts are taking a toll. The president has slashed the budget for advertising about the individual health insurance sign-up period. Trump frequently attacks the program, which is already making it more difficult for states to sign people up — like in Nebraska, where rural areas will be hit the hardest.
An anti-bump stock movement? In the wake of the Las Vegas mass shooting, a variety of legislators and even the National Rifle Association called for a review of bump stocks — the device that makes semi-automatic guns fire like they're automatic. There has been little movement in Congress on the topic since then, but on Friday, Massachusetts became the first state to ban bump stocks. Will others follow?
Michael Flynn could face criminal charges. That was the upshot of an NBC News report on Sunday that said Flynn, who was (very) briefly Trump's national security adviser, could be the next target in special counsel Robert Mueller's Russia investigation.
Last week, Mueller indicted former Trump campaign chairman Paul Manafort and released a guilty plea from a former Trump campaign adviser who was offered "dirt" on Clinton.
The Paradise Papers. This week, the International Consortium of Investigative Journalists rolls out more revelations from more than 13 million documents that show how the world's wealthiest people protect and move their money in offshore accounts.
Early findings from the papers show Commerce Secretary Wilbur Ross has previously undisclosed financial ties to Russian President Vladimir Putin's family, and that a billionaire with ties to Trump's son-in-law and adviser Jared Kushner invested hundreds of millions of dollars in Twitter and Facebook with the support of Russian banks.
In Japan, Trump urges purchase of U.S. military equipment. The president is pushing Japan to buy a "massive" amount of equipment that Japan could allegedly use to shoot down North Korean missiles.
Virginia's elections on Tuesday are a major test for the anti-Trump movement. Here's what groups on the ground are expecting to win in races for the House of Delegates, a GOP-dominated state legislative body.
Democrats are increasingly worried they may lose Virginia's off-year governor's election. That would amount to a stinging rebuke of all the work the party has done this year to capitalize on the energy of voters opposed to Trump.
Donna Brazile: Fresh off the firestorm the former interim Democratic National Committee chair ignited on Thursday with stinging critiques of Hillary Clinton and her campaign, Brazile spoke on ABC's This Week about why she says she considered replacing Clinton with Joe Biden, and a host of other topics.
2020 watch: Eric Garcetti, the mayor of Los Angeles, has made clear he'll run for president in 2020. And former Housing and Urban Development Secretary Julián Castro also signaled an openness to running. Both are prominent Latino members of the Democratic party.
Today's MicBite:
A purveyor of "fake news" explains how simple it is to make money via social media by spreading false information. An absolute must-watch for anyone who wants to understand how powerful Facebook is — and how much it influences our lives. Tap or click the video below to watch.