Christmas & Thanksgiving 2017 Survival Tips: 5 secrets to cheap holiday flights & stress-free travel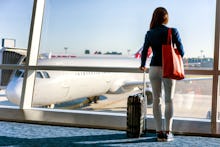 Thanksgiving and Christmas may be two of the happiest days of the year, but they can also be the most stressful if you're traveling to visit friends, family or just want to get out of Dodge one last time this year.
Thanksgiving can be especially tough on your nerves if you're getting on a plane, considering that a record 28.5 million people are expected to fly around then, and even more people drive. That's where planning ahead can serve you well, on everything from packing a backup battery for your phone to flying during off-peak times.
As for Christmas and other winter holidays, you've still got a little time to save cash on flights, gifts and more, but you'll probably want to act fast.
So how can you save money — and save your nerves from stress? First: Read up on top tricks to get the cheapest flights, hotels and car rentals around. Then, for more advice to keep your head from spinning, here are five tips for a smoother, more affordable trip.
1. Know your flight rights — and get compensated
Whether grandma's waiting at the airport or drinks are waiting in Tahiti, the last thing you want is a delay or an overbooked flight — but it happens, and your rights are unfortunately minimal when they do: Buying a ticket doesn't guarantee your seat and pre-booking a specific seat doesn't mean you'll get it.
That said, it helps to know the rules: Airlines can bump passengers involuntarily as long as they provide compensation proportionate to the amount of time lost. If you're involuntarily bumped, you could be paid out as much as $1,350 or 400% of the price of the ticket, depending upon the length of the delay and if the destination is domestic or international.
Before involuntary bumps, airlines usually first offer incentives for volunteers to give up seats on overbooked flights. In fact, some airlines may go as high as $10,000 a ticket to try to get volunteers to give up their seats, so you could actually end up with a lot of free cash if you're flexible and can show up late to your destination. If you want to get bumped, talk to the ticket agent as soon as you arrive and say you'd give up your seat if the flight is overbooked.
Late arrival not an option? Passengers with cheap seats are most likely to get bumped, so consider upgrading if being on time is imperative. And be sure to get to the gate early — you forfeit your right to a flight if you're not there 15 to 30 minutes before departure.
As for delays or cancellations, airlines typically rebook you and try to get you to your destination ASAP — but they aren't required to give you miles or free trips if they have to change your flight due to safety or weather. (To avoid fines, airlines must let you deplane if you're waiting on the tarmac for more than three hours on domestic flights or four hours on international ones.)
But remember: If a delay or cancellation throws a serious wrench in your holiday travel plans, it never hurts to ask for perks to make up for it — even if airlines aren't required to offer them. You may score free meals, a comped hotel stay, or even a free (or reimbursed) ticket if you politely explain to the airline how they screwed up your plans or caused you to miss an event.
Finally: If you arrive at your destination but your bags don't, you'll often score vouchers or free miles for delays or compensation for lost bags — though you'll need receipts. Airlines set maximums, but limits can't be lower than $3,500 for domestic travel.
2. Hack your travel timing
Whether driving, flying or taking the train, departure time makes a difference. "Consider traveling on a nonpeak travel day. If you travel on Thanksgiving morning itself, you'll not only get fewer crowds in airports, but oftentimes, tickets themselves are less expensive," Emily McNutt of the Points Guy said in an email interview. "If you can catch an early enough flight, you'll arrive home right in time for the big meal."
Heading back home a little bit later can also save you a lot of cash. You could reduce your flight cost by $172 by traveling from Los Angeles to Denver on the Monday after Thanksgiving instead of the Sunday, so taking a little extra time off work may be worth it.
For driving, use a route planner or Google Maps to compare traffic at different times — and check tire air pressure and wiper fluid before leaving to avoid hiccups on the road.
When taking a bus, arrive early to get a prime window seat. And plan ahead: If you travel on BoltBus, for example, setting up an account will get you in the first boarding group so you don't have to wait forever in line. It will also make you eligible for free rides down the line.
3. Optimize your air travel experience
The most important part of holiday travel to remember is that the lines are going to be long, so arriving early can really pay off in terms of decreased stress and wasted cash — two hours in advance is a good rule of thumb for domestic flights — as can setting up text alerts from your airline to advise you of delays. The last thing you want is to drop $50 on a taxi to the airport, only to learn your flight was canceled hours ago.
If you're only going away for a few days, consider only bringing a carry-on bag to avoid the chance of your checked bag getting lost — and to save money. The costs of a checked bag is usually around $15 to $75 depending on the airline and where you're flying, while carry-ons are either free or priced at half the cost of a checked bag or less. Worst case scenario, if your bag is technically small enough to count as a carry-on — but too bulky to fit on your packed flight — you can often gate check the bag for free.
Once you're at the airport, choose your security line carefully. Look for lines with passengers who packed light or ask the TSA agent. "They always stay in touch with each other, and, if you're nice, you can get the best tips on where to go," Expedia travel expert Sarah Gavin told Today.
If all else fails? Just go left. "Most people are right-handed and tend to go to the right," Robert Samuel, founder of Same Ole Line Dudes, told Today.
If the security line looks like it will take hours and you are worried about missing your flight, find a representative from the airline and explain your dilemma. They may be able to help expedite you through security to avoid missing your flight. TSA pre-check, which costs $85 for five years, may also be a great deal to save you time and stress for the next couple holidays.
On the flip side, if you get to the airport too early and have hours to kill, check out the airport amenities like the yoga room at the San Francisco airport or an airport lounge you may have free access to through your credit card or airline. Yelp may also be a useful resource as you look for the best value on food.
When it comes to your actual seat, consider upgrading to a roomier one — upgrades start at $15, depending on your airline and route — to feel less like a sardine on what is likely to be an overbooked flight. If you're a frequent flyer, you may find it worth it to invest $30 in this portable armrest extender so you'll never be left without a place to put your arm again. Feeling cheap? You could also aim for a seat on an exit row to score more leg room.
4. Get the right reservations — and know what to do if something goes wrong
If your travel plans involve a rental car or hotel room, there are some tricks of the trade here, too. As with flying, make sure to arrive early for the best selection of rooms and rentals.
Not getting your car is also a concern, as companies overbook and don't usually offer compensation. To maximize your chances, consider booking with multiple companies if there's no cancellation fee.
As for your hotel room, if there's a problem with it, ask for the manager and have a specific remedy in mind, like a discounted night or free room upgrade. Remember to remain calm and polite, as people are more likely to respond positively if you're nice when asking.
For both rental car and hotel problems, if you're not satisfied with the fix, ask to speak with the manager, calmly reiterate your request and explain why you aren't satisfied. And remember that you can always request a refund after your stay. Having a detailed record of what went wrong and who you spoke with will help your case. If you're not fully satisfied with the fix, you can always dispute the charge on your credit card.
5. Revamp your packing process
Lugging a heavy suitcase home isn't fun, nor is forgetting your charger. One UK study found 53% of vacationers forgot items like sunglasses and clothing, and these forgetful travelers spent around £27.35 (about $36) replacing their lost items. By double checking your packing list, you could save yourself close to $40, assuming Americans are about as forgetful as their UK counterparts.
When it comes to packing, making a checklist of must-bring items is just the start of the optimization process. You can also roll, not fold, your clothes, pack thinner clothes, wear bulky outerwear and choose versatile options so your suitcase is lighter.
If you're flying, know baggage weight limits and invest in a luggage scale to avoid costly fees; remember to strategize your hydration for the day, so you don't accidentally show up at the security line with a full bottle of juice you'll then have to throw out. Traveling via bus? Don't forget items you'll want for the ride, like a water bottle, snacks and hand sanitizer.
As for keeping your phone fully juiced, you never know for sure if you'll have access to an outlet on a plane or bus or even a rental car, so it's wise to invest in a backup battery, which can cost as little as $6. You might also want to get a longer USB cable so you can extend the cable to an outlet that's out of reach.
A little bit of advanced planning can make all the difference between a bad trip and a cheap, stress-free one.
Sign up for the Payoff — your weekly crash course on how to live your best financial life.