With no evidence, media reports link Texas church shooter to antifa movement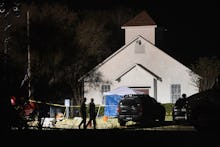 In the immediate aftermath of Sunday's mass shooting in Sutherland Springs, Texas, that left 26 dead and many others injured, false information about the gunman's motivation and political affiliations swirled. In the world of right-wing and conspiracy media, articles and pundits were quick to claim or suggest the shooter, 26-year-old Devin Patrick Kelley, was a member of the loose coalition of left-wing activists known as antifa.
"Was this part of the antifa revolution against Christians and conservatives, or an ISIS op?" far-right pundit Alex Jones asked on his conspiracy theory website InfoWars.
Similarly, pro-Trump social media personality Mike Cernovich posted: "Antifa terror attack?"
On Twitter, screenshots of fake Facebook accounts purporting to belong to Kelley quickly made the rounds. The Russian government-owned site Russia Today promoted those fake accounts, claiming in an article that screenshots from Kelley's Facebook page "appear to feature an antifascist action banner." RT has since updated its article, noting that "a number of reports in fact-checking media have debunked it as a doctored image spread by right-wing activists."
There were also a number of fake news articles claiming Kelley spoke of a "communist revolution" or a "civil war" during the attack.
Other false claims alleged Kelley, who died after fleeing the scene, was a Democrat, had converted to Islam or was a supporter of Hillary Clinton or Bernie Sanders. Some of those claims even made their way to Google's "Popular on Twitter" news feature.
There is no evidence for any of these allegations. Law enforcement officials said Monday that the attack, which is the worst mass shooting in modern Texas history, likely stemmed from a "domestic situation." Kelley's mother-in-law attended the First Baptist Church in Sutherland Springs, where the shooting occurred, a spokesman for the Texas Department of Public Safety said at a Monday morning press conference.
The articles tying Kelley to antifa came a day after Fox News and far-right conspiracy websites ran articles and segments falsely suggesting that an "antifa apocalypse" was coming. That "antifa apocalypse" was, in fact, a small collection of anti-Trump protests organized by the leftist group Refuse Fascism.
Some fake news articles about Kelley attempted to link the shooting, without evidence, to the anti-Trump protests. One fake news article claimed Kelley was "acting out on behalf of" the Nov. 4 protests.
Disinformation after the shooting spread beyond right-wing media. Rep. Vicente González (D-Texas) falsely claimed Sunday on CNN that Sam Hyde, a comedian popular among the so-called "alt right," was the attacker.
Nov. 6, 2017, 12:52 p.m.: This story has been updated.