New Yorkers rally in support of 'Gothamist' and 'DNAinfo' outside City Hall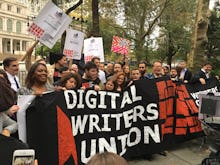 On Monday afternoon, former staffers of recently shuttered news sites Gothamist and DNAinfo lined up for a rally outside City Hall in lower Manhattan alongside city council members, community activists and readers who gathered to stand in solidarity.
Representatives from the Writers Guild of America, East organized the rally after Joe Ricketts, the billionaire owner of the sites, pulled the plug on both digital properties without warning after staffers voted to unionize the newsrooms six days earlier.
The swift termination of the sites sent up a panicked outcry from fiercely loyal readers — including the elected officials the news outlets had sought to hold accountable — who saw the closures as just the latest reverberation in the ongoing death knell of hyperlocal journalism.
In his remarks to the crowd, Queens Councilman Donovan Richards said Ricketts' decision to shut down the sites was purely ideological, adding that New York's already underserved neighborhoods would be the ones most hurt by the closures.
"Joe, you didn't just attack these reporters. You attacked communities from all around the city and country by attacking local journalism," Richards said.
Emma Whitford, a former Gothamist reporter who lost her job Thursday, spoke during the rally, telling people in the crowd that instead of wallowing in despair, they should draw energy from the resulting display of solidarity from other journalists.
"The message that I want to get across to other shops that haven't organized yet is: don't be afraid because of us," Whitford said. "I feel the opposite of lonely. Local journalists look out for each other, and there are still so many out there. I would just encourage you to do what we did and don't be afraid."
One frequent visitor to Gothamist's comment section, who wrote under the handle "Michael Ellis Day," said some of the site's most frequent commenters had begun congregating on Disqus in the absence of the beloved news hub.
"It's too fresh to even really be sad. Shocked, I would say," he said in an interview with Mic during the rally. "The mood is generally that people are stunned by what happened."
Day recalled he had just posted a comment on Gothamist when the site suddenly went dark Thursday, replaced with a message from Ricketts outlining his decision to shut it down. He said the comment section, where he was a fixture for more than a decade, will be sorely missed by him and others who used it as a sort of digital water cooler to discuss the day's news.
"It was a place for all sorts of people who didn't have a local group of people that they could just hang around with at work and talk about the latest news," Day said. "It was a small bit of community."
Isham Christie, a WGAE organizer, said the labor union remains committed to former employees of DNAinfo and Gothamist and that WGAE was currently "pursuing all legal recourse" possible, including National Labor Relations Board charges for unlawful termination.
He also said the WGAE will support the laid-off workers in the creation of new journalism alternatives to the shuttered websites, if the opportunity should arise.
"We're dedicated to keeping this project alive and using whatever connections and resources we have as a union to help facilitate their decision on that," Christie said.