Trump started his Asia tour by eating burgers made from American beef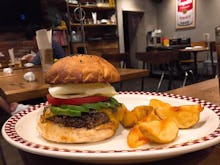 President Donald Trump had lunch with Japanese Prime Minister Shinzo Abe on Sunday afternoon. But the two didn't eat local dishes, like ramen or sashimi.
According to a tweet Abe posted Sunday, the two leaders had a "hamburger and business lunch" — and appeared to be drinking soda. Perhaps those glasses are filled with Diet Coke, a beverage Trump famously favors.
The burgers were from Munch's Burger Shack, Mashable reported, where burgers are made with "high-quality Angus U.S. beef."
Eating burgers is strictly on brand as far as Trump's food habits go — the politician loves fast food. He's been known to rip the buns off McDonald's burgers, the New York Times reported.
Here's what Munch's burgers look like:
Here's what the storefront looks like:
Yelp reviewers said Munch's Burger Shack is hidden in a back alley near the railway station in Minato, a ward of Tokyo. Reviewers praised the restaurant's cheeseburgers and burgers topped with sliced avocado and fried egg, served with roasted potatoes instead of fries, according to Yelp. Another location, called Munch's Burger Stand, is located in the Tranomon area.
Looking at Abe's tweet, it's clear the two politicians had white tablecloth service and did not eat at the burger joint itself. Instead, the burger was brought to the Kasumigaseki Country Club, the future site of the 2020 Olympics golf competition, according to Golf.com.
When former President Barack Obama visited Japan in 2014, Abe took him to Sukiyabashi Jiro, the three-Michelin-starred sushi restaurant that was featured in the hit Netflix documentary Jiro Dreams of Sushi. "That's some good sushi right there," Obama told reporters while he walked out of the restaurant.
While it doesn't serve local cuisine, Munch's burgers get high praise from some on Twitter. C.B. Cebulski, who works at Marvel Comics and lives in Shanghai, said Munch's delivers the beefy goodness.